Why Copenhagen Downtown is the Best Party Hostel in Denmark

So what makes an awesome party hostel? - you make ask. And why is Copenhagen Downtown the number one party hostel in Copenhagen? Well, the truth is, no one throws a party like we throw a party. Downtown style. As anyone who has ever visited us can tell you - we love live music, we love our international atmosphere, we love our happy hour prices and we love you - our awesome guests! And because of this, we are dedicated to making your stay one to remember - for all the right reasons. Live music, great bar prices, DJs and bands. We will spoil you with our themed parties and costume prizes, along with nights that you will never forget! Our full moon parties are now almost as famous as Thailand's! (Almost!)


Not only are we a part of the Europe's Famous Hostel network of the best and most unique hostels in Europe, being a Famous Hostel means that we are the only chosen hostel in Copenhagen! We have also won Hostel of the Year as voted for by Hostelworld customers every year and the Best Hostel in Denmark! That makes us some serious award winners - and all thanks to our guests voting for us! We love you!! And we love to party. We're made for each other!

So get yourself to the Bar and Order the Gelato 43 and find out all about....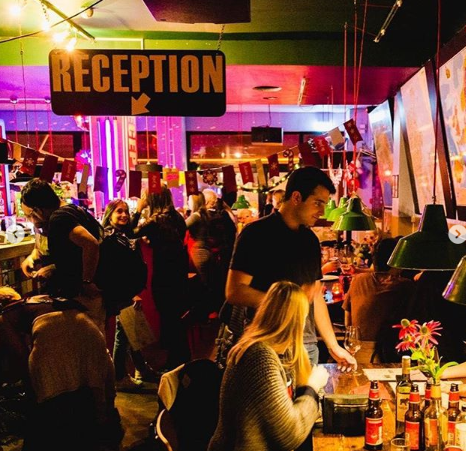 Great Atmosphere

We love our bar, and you're going to love it too when you get here. Are you a local? Then you already know us and love us (or if not, why not??) If you've already been and stayed with us then you know this already, so what are you waiting for? Get yourself on a plane back to Copenhagen for some more of the good stuff!! Here's why our bar is THE BEST in Copenhagen (we think) and why it ROCKS!

Not only is our bar really international with people from all over the world travelling to Copenhagen and staying with us, we also have a local vibe with plenty of regulars who come in to enjoy the crowd and the live music! We also have the best Happy Hour in town, and unbelievably fun parties...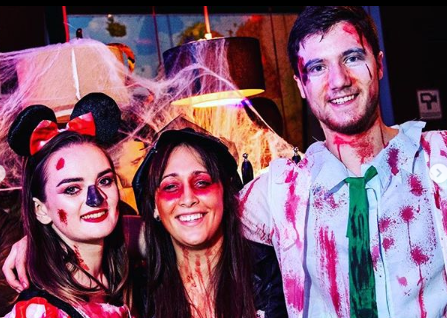 Live Music Every Week
We not only have live music acts playing right here in our bar, but we have lots of talent playing regular shows in our basement club at Copenhagen Downunder. That's a lot of fun to have right there. Plus, we have talented musicians playing regular open mic nights for us that really raise the roof!
The nights we have are unique because there is such a cool international crowd. We always have lots of locals because the bar has a great vibe and throws a good party - they love it because there is a mix of some Danish songs too and of course there is a great Happy Hour and chance to meet lots of people from around the world. The fact that it's such an international crowd means that there are always interesting people to talk to or dance with and an eclectic mix of music requests. We often get lots of Latino requests for music as well as some of the classic rock and pop selection.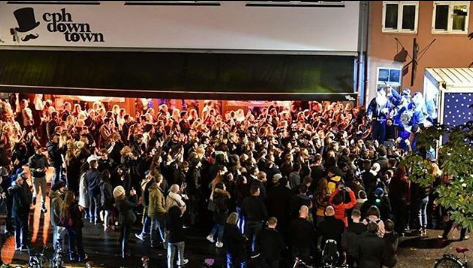 Crazy Parties
Were you at our New Year's Eve Party? Octoberfest? Copenhagen Pride party? Or our Jack Daniels nights? Or Pie Eating contests? Or maybe you made it to one of our insane Full Moon Parties? If not then you've missed out, but don't worry, we have rocking parties every month and party nights every week! To find out what's next you can check our calendar of events or our facebook page.
The last Full Moon Party we had we made a real sand beach around the bar with loads and loads of sand. We had Thai themed bucket cocktails like the full moon parties there, and had the most amazing decorations. The staff really got in to it as well as they all got their beach wear on - the guys were in shorts and girls in swimsuits, it was just a great atmosphere! The music was also really good with a a DJ playing really good electronic music - each time we have different DJs too so we're excited for the next one.


Happy Hour - Probably the best in Copenhagen!
We did our research and we have one of the best Happy Hours in Copenhagen for sure! There are some amazing deals in the hostel bar, like 10 shots for 50 Kroner from 8-9pm and 1 liter of beer for 50kr. We also have long drinks like gin and tonics and you can get 2 singles for 60 Kr and 2 doubles for 80Kr, which is super good for Copenhagen prices!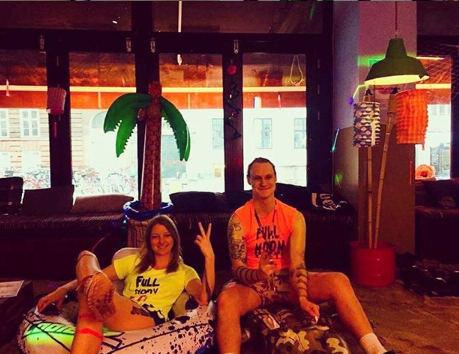 Awesome Bar Staff

Our Bar Staff are full on awesome - we work together like a family and we all have great chemistry. We have a lot of fun working here and it shows! We love our guests having a great time too, and we're always thinking of new Happy Hour offers, choosing top tunes to play and mixing you the best cocktails!
Our Bar Manager Justas has also got a recommendation for that...
"My favourite is our new cocktail the Butterfly. It's got the exotic mix of rum, lime and mint - refreshing especially on a hot summer day - perfect"

Do you know our Downunder Bar? Check out the list of events taking place on our website!




Book your stay with us at Copenhagen Downtown Hostel

If you're visiting Copenhagen then why not book your bed with us at Copenhagen Downtown Hostel? We have a great international atmosphere in our retro designed hostel, and awesome happy hour prices at our friendly bar! Book the best hostel in town here.

We are part of the Europe's Famous Hostels network of the best hostels in Europe, being the hostel of choice for the Genuine Backpacker. Find out more about Famous Hostels here www.famoushostels.com

Copenhagen Downtown is a proud member of Famous Hostels. Book your stay with us for a #GenuineBackpacker experience!