The sophisticated styles in Scandinavian design has long been in fashion, and Danish design is the epitome of where to see innovation and sleek line in its art, design, architecture, fashion, and even food. Popular since the 1940s, Danish designers and architects have created iconic minimalist looks and products that have been desirable ever since, from George Jensen's products to Arne Jacobsen's furniture, Denmark has long been on the design lover's map of places to appreciate style.

The famous Circle Bridge, the space-aged aquarium the Blue Planet, Superkillen skate park's colourful stripes, the futuristic towers and iconic black diamond have all put Copenhagen at the forefront of cutting-edge building design. The city of Copenhagen is also designed for happiness, so the idea of simple, functional design is infused with being a liveable city!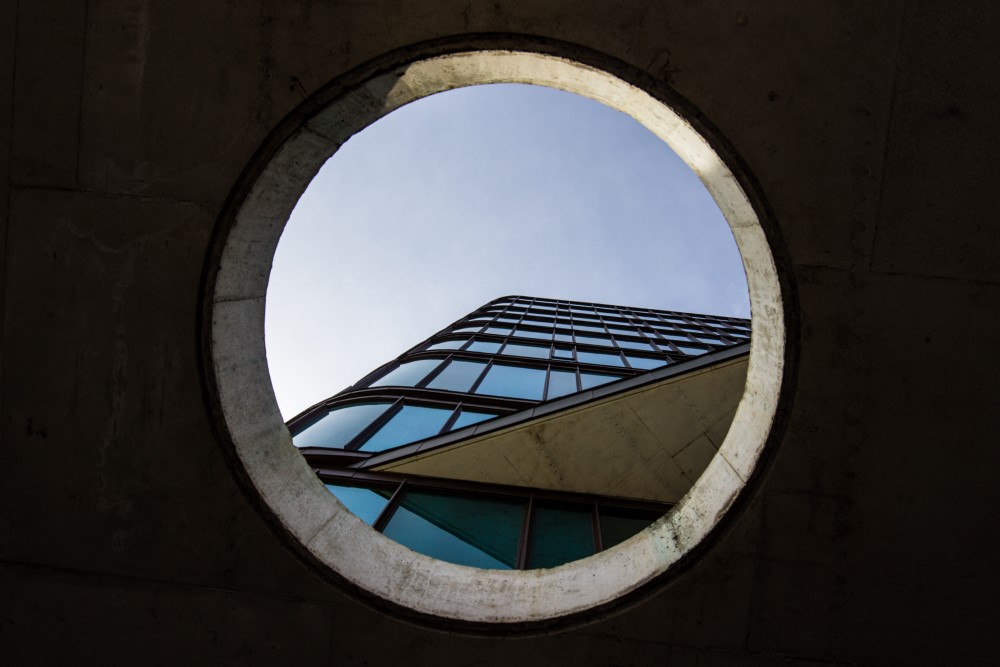 Copenhagen's skyline and waterfront showcases futuristic architecture, while the biggest fashion show in Scandinavia is held here at Copenhagen Fashion Week twice a year. With design aesthetics infused in everything from skate parks to royal china, there is plenty to see while visiting the city.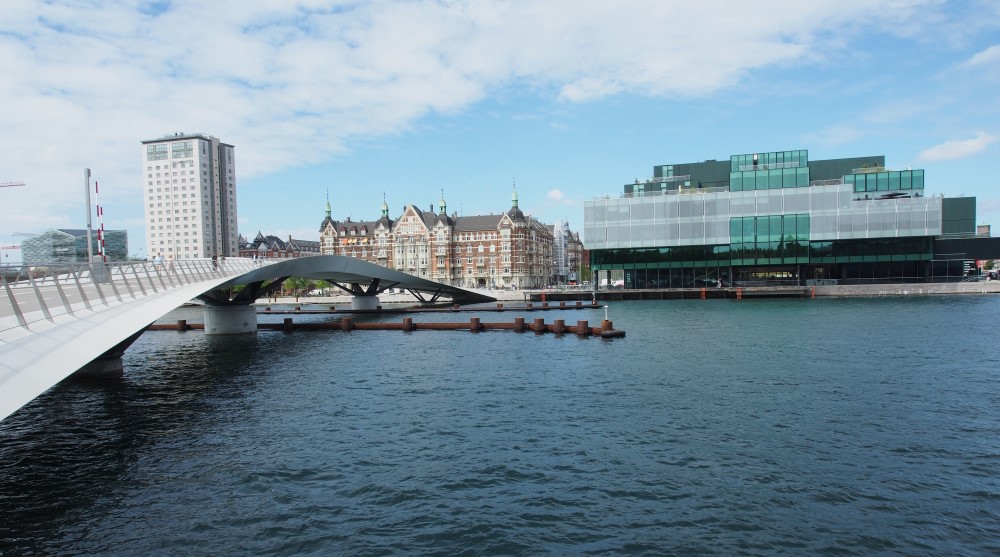 Other than just enjoying the city's architecture as you explore, the first stop for design lovers should be the Design Museum Denmark, but this is currently closed until June 2022 for renovation. If you can wait until then you can enjoy the historic buildings, exhibitions, and learn about everyday Danish design. They also have great podcasts so you can find out about Danish design for free!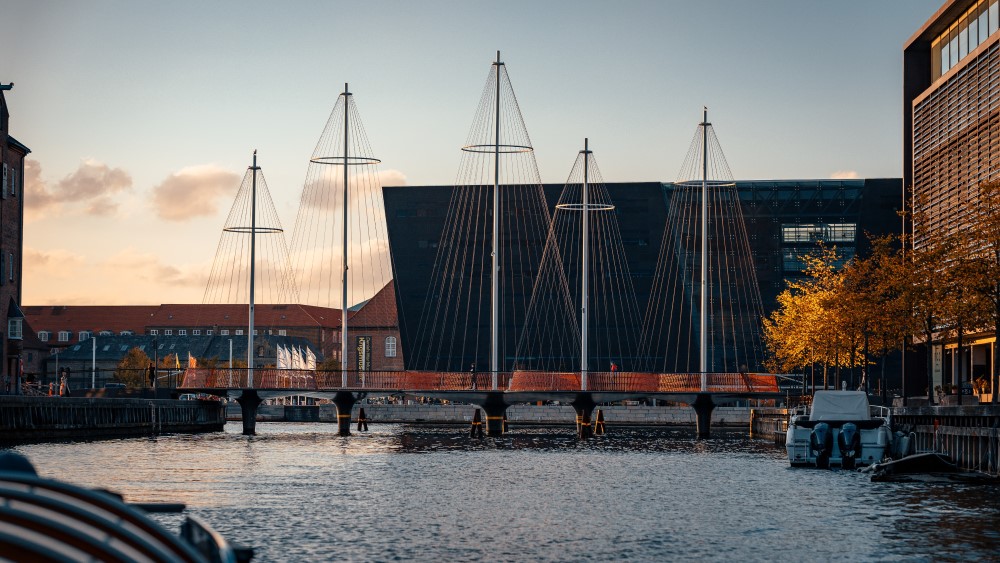 The Circle Bridge
The Circle Bridge, or Cirkelbroen opened in 2015 and has become an iconic piece of architecture on the Copenhagen map. It was designed by Danish-Icelandic artist Olafur Eliasson; famous for his installations using ice and replicating sunlight, he is inspired by nature and its shapes and forms. The bridge connects Christiansbro and Applebys Plads for pedestrians and bikers and creates a space to take a break and reflect through its uniquely shaped design. The bridge is formed of five distinct masts to reference Copenhagen's maritime history, then composed of five circles that move apart to let ships pass. These platforms also create a space to enjoy the views and the bridge has become a place to stop and enjoy the cityscape.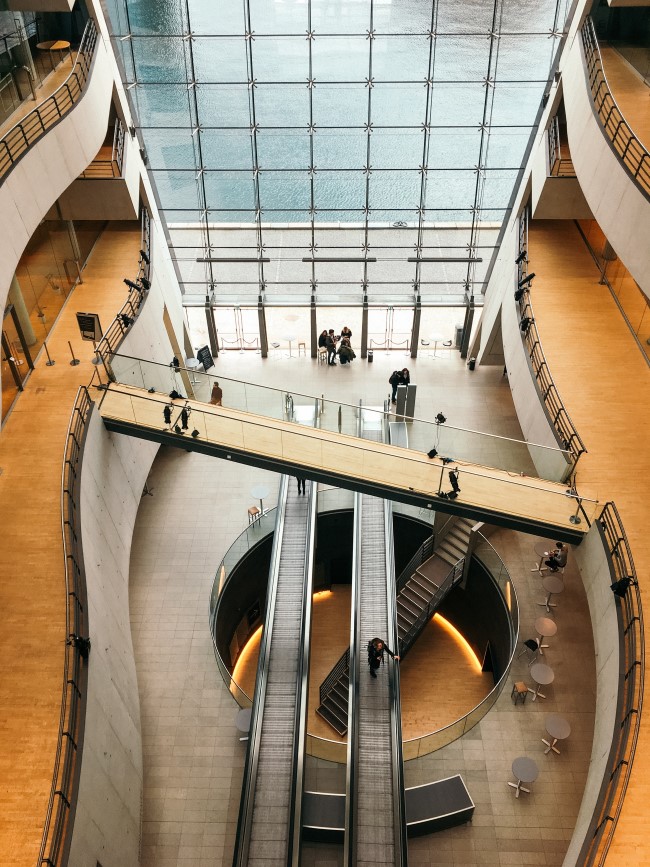 In the glassy 'BLOX' building on the waterfront at Bryghuspladsen, the DAC is 'the meeting place for architecture, design and urban culture in Denmark', bringing together exhibitions, experiences, and tours to explore the profound effect of architecture on culture and the environment. This is an interactive space for architecture enthusiasts with the building itself designed by the world-famous Dutch firm OMA and forming a hub for architecture, design, and ideas to come together. The center also runs architectural tours. Exhibitions on right now include A Space Saga which runs until September 4th 2022, and examines the possibility of a lunar base that can be lived on, and Living Better Lives which is on until April 18th 2022 and looks at if architecture can help us to live better, more sustainably, and with the same quality of life. The Center is open Monday to Sunday 10am to 6pm, and Thursdays 10am to 9pm. Student tickets are 60 Dk, adults 115 Dk.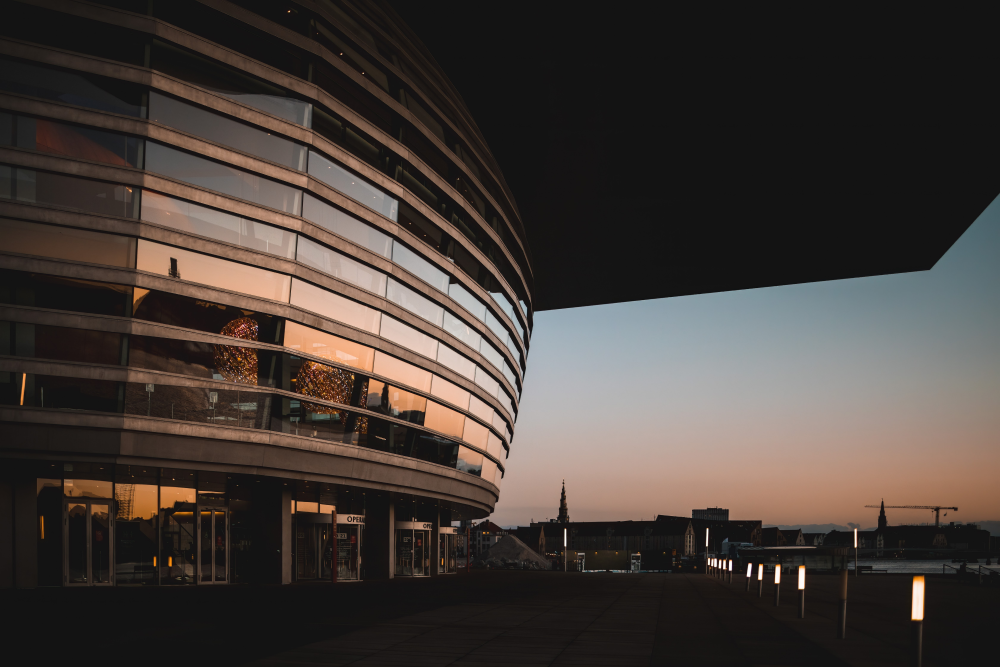 Architectural Tours
The cityscape holds plenty of church spires and palace turrets, but it is the more futuristic and ambitious projects that put Copenhagen at the forefront of architecture, where innovative design meets function. With Danish 'fuctionalism' style born in the 1930s, the Danes were at the forefront of modernist design and architecture. You can still see examples of this style around the city in the buildings still in use today.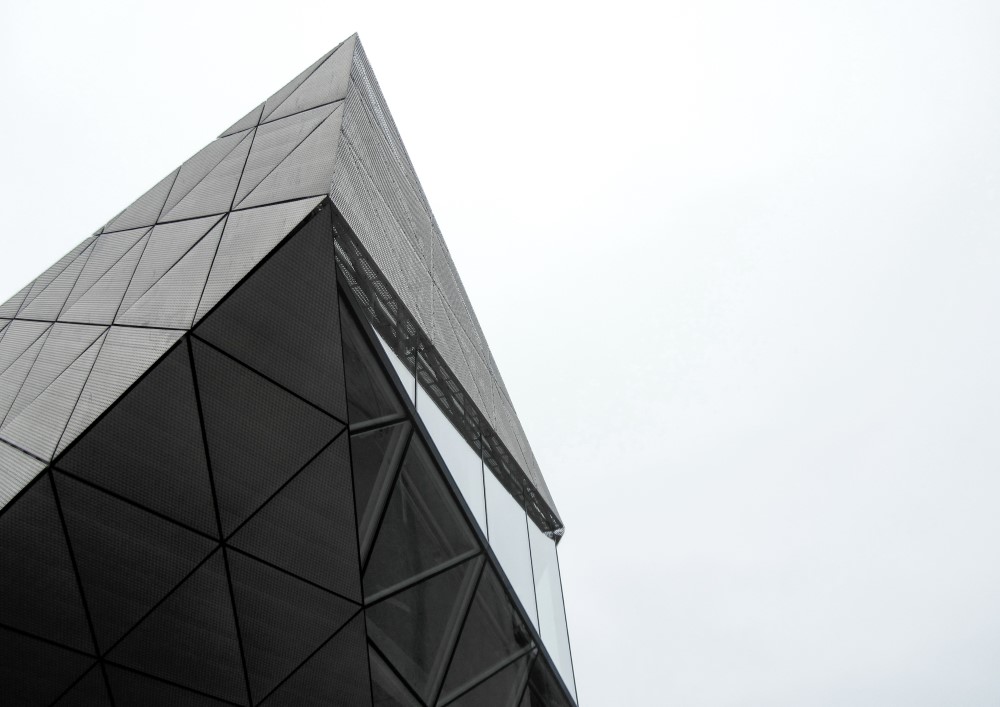 Designed by Danish architects Schmidt Hammer Lassen, the 'Black Diamond' (Den Sorte Diamant) building has become iconic through its geometric prism shape and black granite form. Completed in 1999 as one of the large waterfront buildings in the cultural zone, the Black Diamond is a library with reading rooms, a concert hall, a conference space, and event space for exhibitions and music and theatre performances, and a café and garden.
Another building to look out for is the Blue Tower shard in the sky of the Cabinn Metro Hotel building, designed by Daniel Libeskin.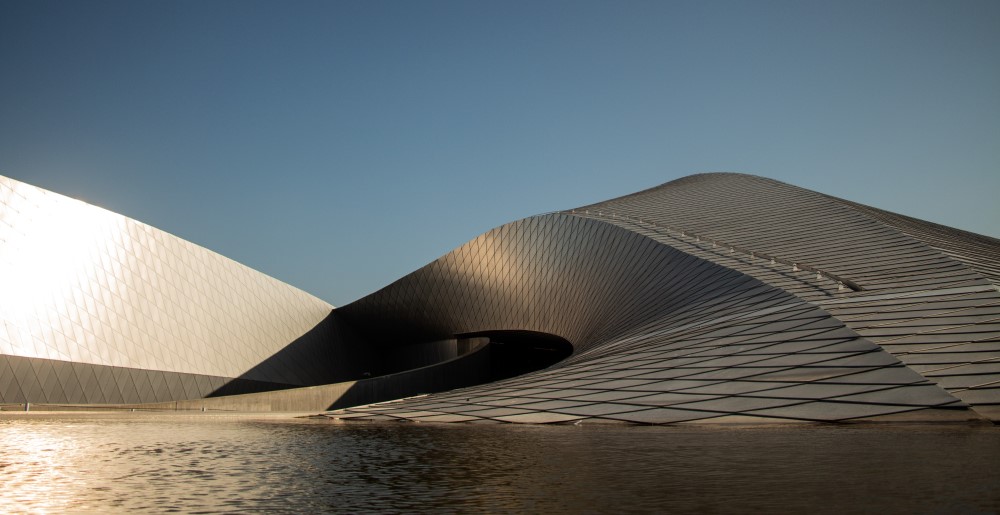 Designer Products
Denmark is famous for interior design, with its use of natural material and light, particularly wood and simple shapes and silhouettes creating a streamlined look of sophistication yet also with a functionality. Think minimalism, and stylish yet cosy! The most well known of the Danish product designers are the big names like Bang & Olufsen, Cecilie Manz, Arne Jacobsen and his Egg Chair, and Hans Wegner, but there is a new generation of young designers inspiring contemporary design. Check out some of the traditional brands alongside new designers in the heavenly shopping magnet of Ilums Bolighus, with more than 400 brands of household goods, including lighting, furniture, fashion, gifts, and products. This place is certainly not budget but worth visiting to see the collections!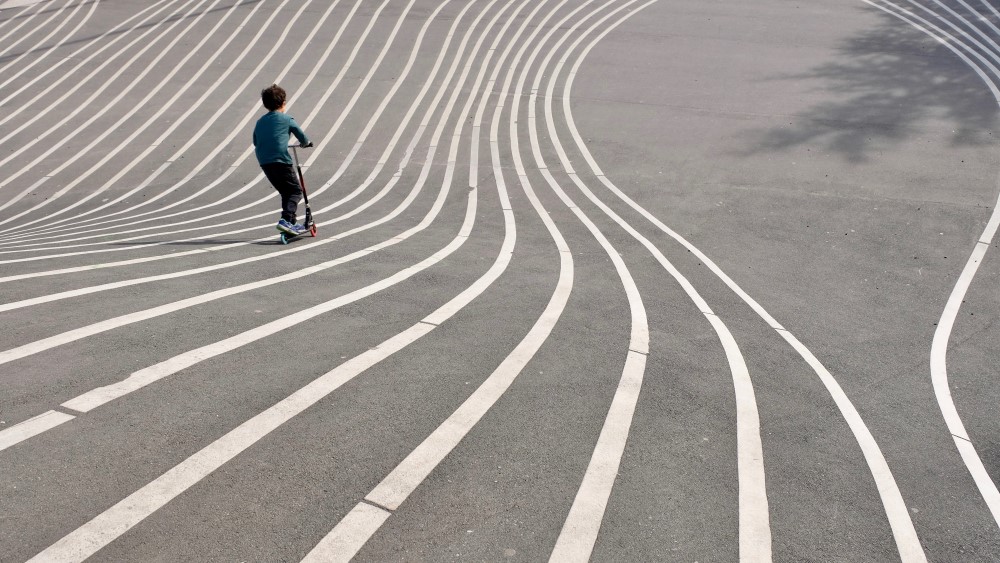 Superkillen
Superkillen created a park for bringing the community together - which meant designing a multipurpose recreational space. With areas for kids, families, and skaters, this landscaped area is a great example of effective urban planning. Above the fun pink stripes, the park is designed to bring together a multicultural community and visually represent diversity within it.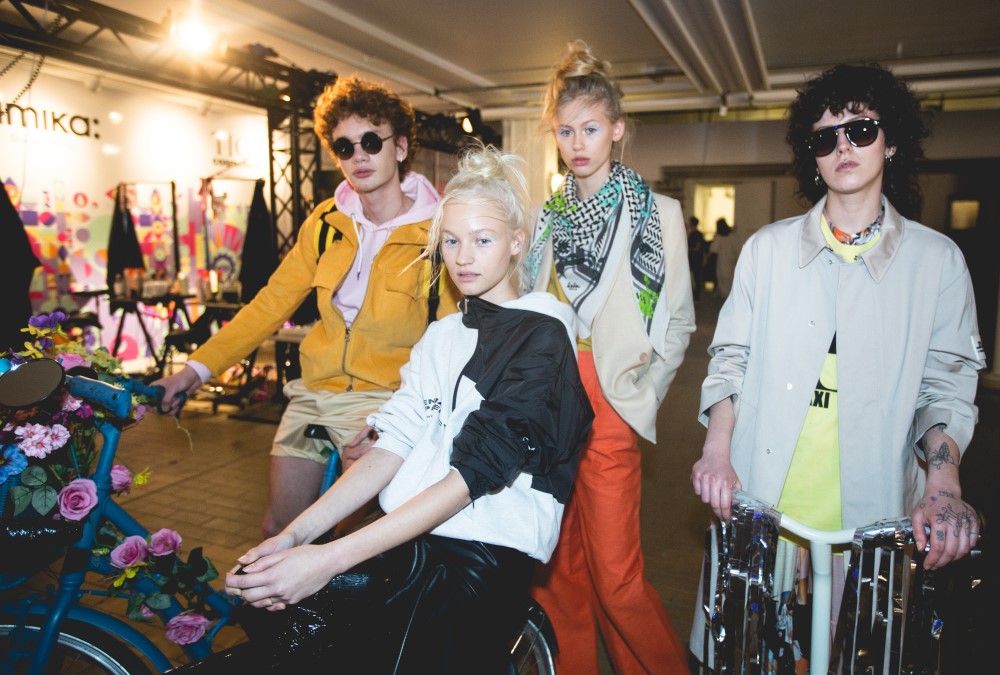 Fashion and Design
The biannual Copenhagen Fashion Week (CFW) is the largest fashion show in Scandinavia, and is focused on showcasing local talent, inviting international participation, and being exemplarary in the push for environmentally friendly design. The ethos behind the event is to keep fashion relevant, cutting edge, and sustainable.

Each February and August you can see the models strut their stuff as famous design houses rub shoulders with up and coming newbies on the fashion scene. There are plenty of events that take place with some open to the public if you grab a ticket in time. The shows are aimed at being accessible so there are usually large outdoor screens to share the moments and plenty of workshops. Put your best outfit on and come and along and find out what everyone will be talking about next season!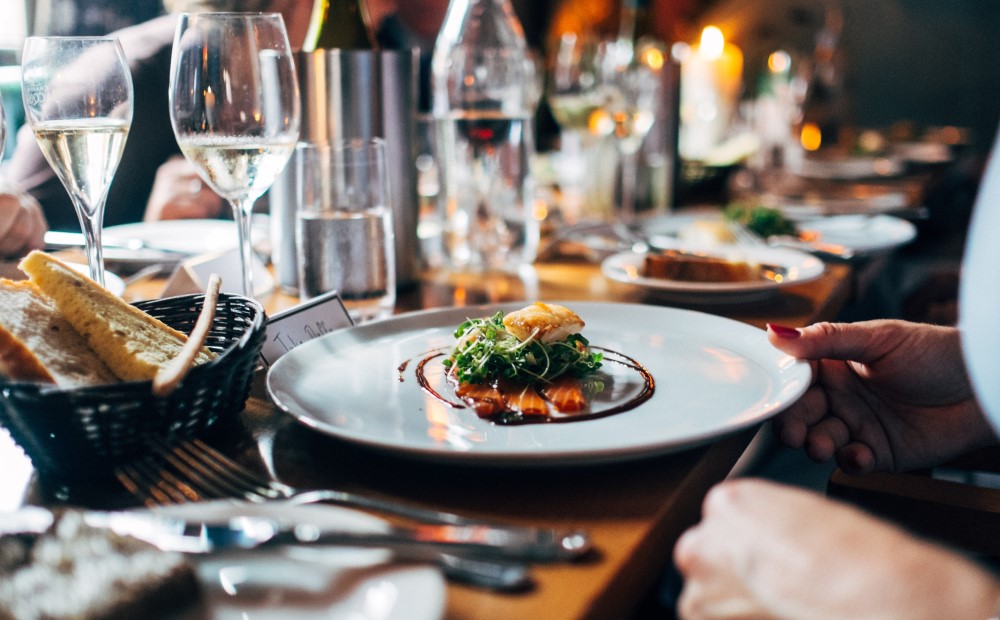 Designer food - Nordic Cuisine
Michelin stars are sprinkled around Copenhagen, with Noma hitting headlines with the 'world's best restaurant' title when it came on the scene in 2012. There are now several accredited restaurants, but don't panic if these aren't in your budget. Because of the amount of influence and training that these restaurants produced, the quality of cuisine in Copenhagen and the willingness to experiment has become a trend. Plenty of former employees at top restaurants have opened their own smaller joints, dishing up imaginative creations. The top restaurants have the same principles as more budget options of 'farm to table,' where they use simple, fresh, local ingredients to create awesome and delicious dishes. Not only stylish in looks, the cuisine that is proving popular at the moment is also back to basics. Expect everything on your plate to look like a masterpiece!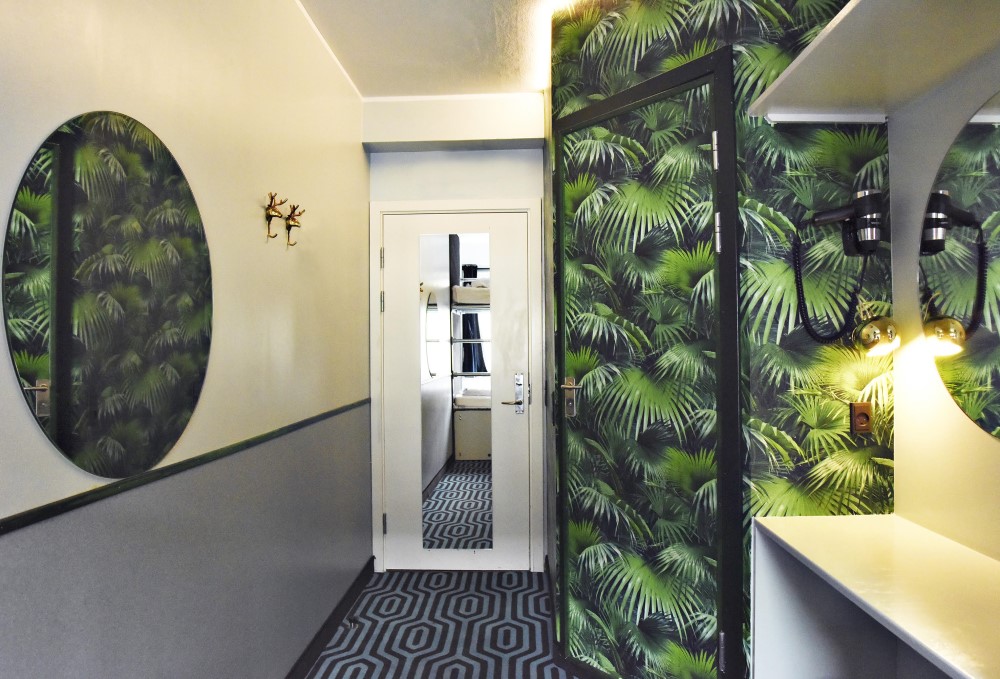 Retro Design at Copenhagen Downtown Hostel
The best hostel in Copenhagen. Always in fashion, check out our fabulous international bar and live music venue, Copenhagen Downunder. We have an award-winning hostel and central location, that will have you meeting the best international crowd in town! Enjoy our amazing cocktails, happy hour specials, live music from our awesome singer Morten, games nights, DJ parties, theme events and more drink specials.
We also have bike hire, a cosy lounge, walking tours, delicious breakfast – what more could you want? See you here!

Book direct with us for the best prices and added benefits throughout your stay. We are part of the St Christopher's Inns Hostels network and a member of Famous Hostels, an association of the best hostels around Europe!