Our Favourite Things to Do this Winter in Copenhagen
Our top tips for what to enjoy this winter in Copenhagen with our favourite things to do. Winter may be a little bit cold and dark in Scandinavia but it's also a great time for getting cosy and exploring the city with fewer tourists. You can see a little more how locals live, enjoy the beauty of the cityscape with snow or on a sunny day, and the long dark nights also mean plenty of time to party and enjoy the city's nightlife!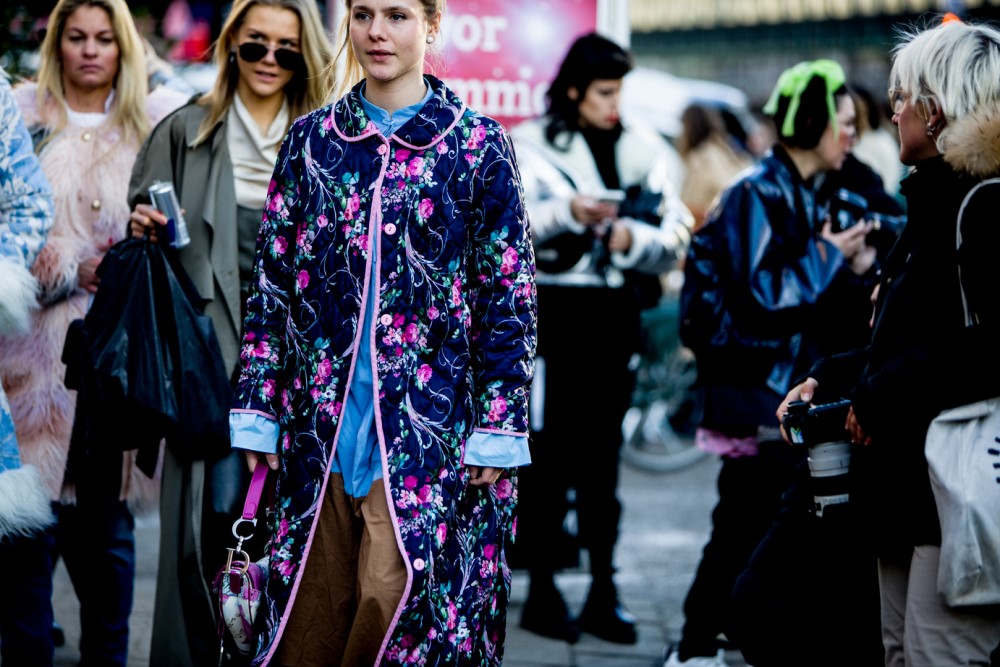 CFW is the hottest ticket this winter as fashion week arrives 31st January until 3rd February with the Autumn Winter collection 2023. Find out what's hot off the runway in the biggest Nordic show to take place for the season. Here you can catch big name international brands as well as local up and coming designers and Danish classic design. It's a date!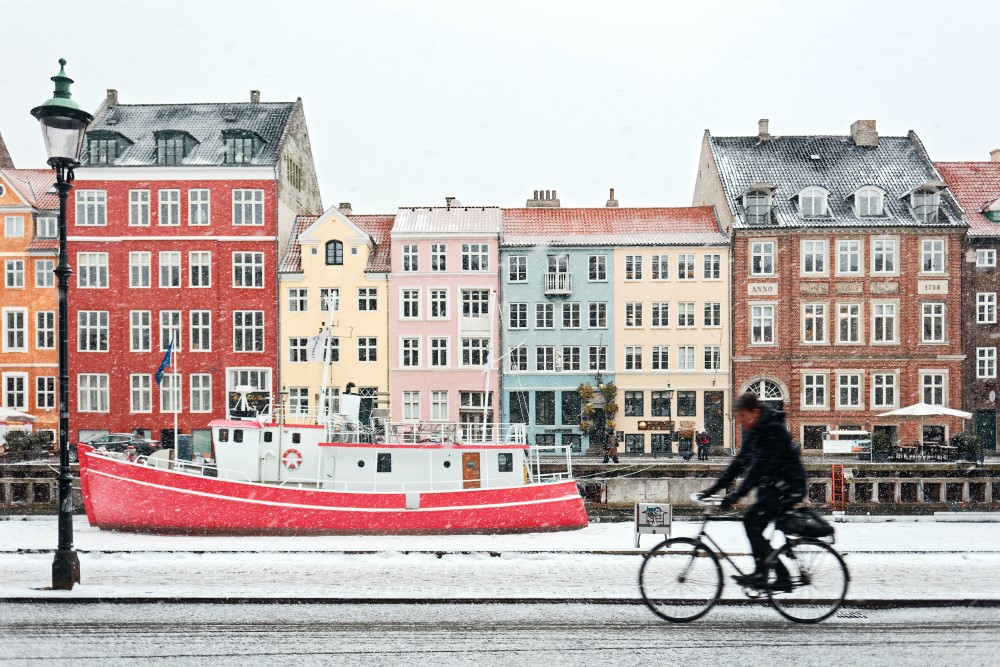 Experience a Danish Lunch

Get a taste of a traditional Danish lunch with a tipple of the local booze with Smørrebrød and aquavit! Smørrebrød are little open sandwiches, with smørre (butter) and brød (bread) giving the name to these fancy sandwiches laid open. And ever so tasty! Aquavit you may know better as "schnaps," which are generously poured. Expect your smorrebrod topped with Danish favourites such as salmon, cream cheese, herring (sild) with pickled onions and dill, roast beef, roasted pork and remoulade sauce and red cabbage, and cheese with cucumber with fresh herbs. All very healthy and delicious, depending on how many of each you have!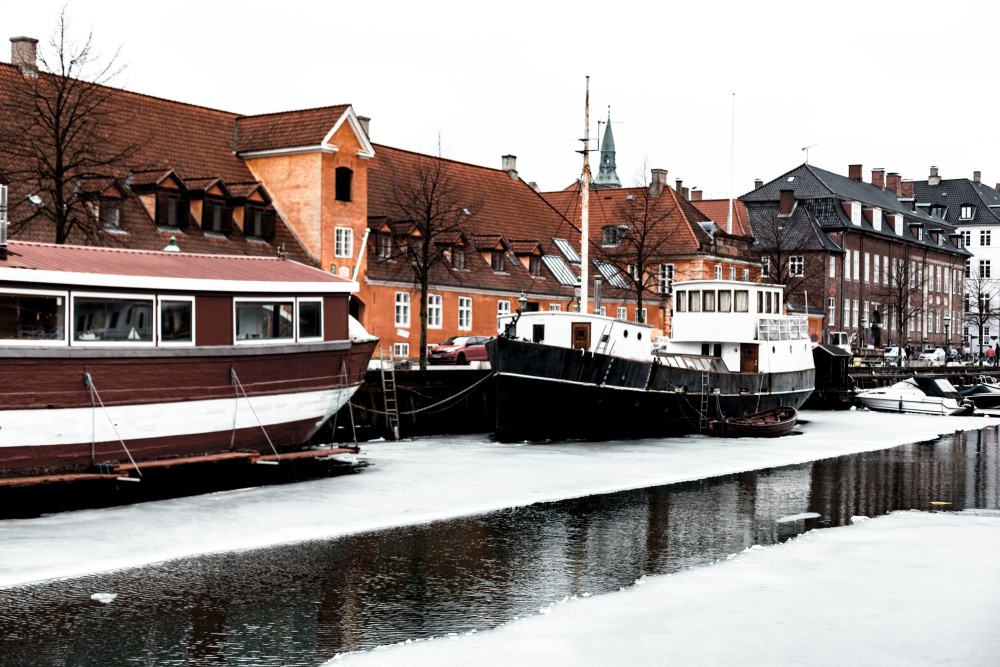 Get cosy in a cafe...
This is the perfect time of year for hot chocolate and cake. And Copenhagen does both very well! With tasty pastries and a coffee culture, you will never go hungry and can always find a cosy corner to get warm, enjoy the view, and soak up the local atmosphere.

Our favourite places to stop by for a dark roast in the centre of town are Paludan Bog & Cafe which is a book shop filled with shelves of books surrounding cosy cafe seats. It sells food also but it's a student favourite for grabbing a coffee and something to read! There are also terrace seats on the street outside. The Living Room is a funky little cafe for a cosy stop, or The Little Yellow Coffee Bar has seats on their terrace to enjoy the view. On a rainy day pop into Bastard Cafe and make the most of their board games over a hot drink, it's lively here so a fun spot on a cold day. And of course Coffee Collective is now in a few locations selling delicious roasts in a buzzing atmosphere.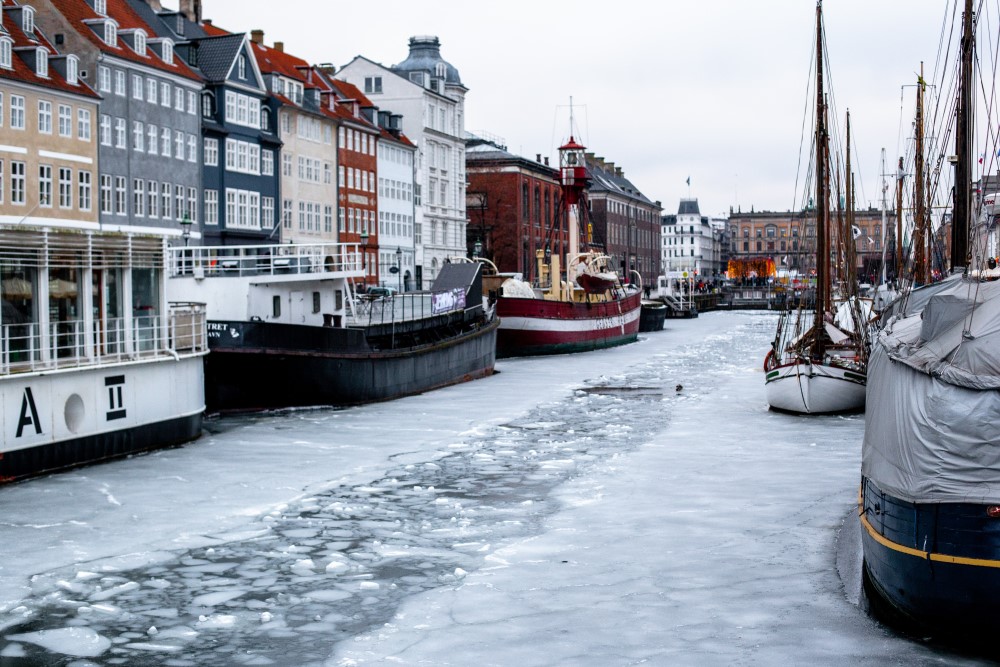 Explore the City, just wrap up warm!
Winter days can also be beautiful for taking a walk around the city, especially on sunny days. If the weather is good then check out the walking routes around the centre of the city along the canals and waterfronts. The harbours are very charming in the snow and there are fewer tourists about in Nyhavn, so you can get your perfect photo of the colourful houses! There are also plenty of great bike routes around town, so you can explore a little further afield. Hire bikes at the reception of Copenhagen Downtown Hostel for the best price.



Go Ice Skating!
Danes are pretty into ice skating, so don't be surprised if you're here during a big freeze and you see locals making the most of the frozen canals. For a more reliable place to ice skate where you won't hit a bridge and where you can hire skates and enjoy some music, warm food and drinks, check out the skate rink at Broens Skojteban and at Frederiksberg. These two are near the centre of town, and they are open until the end of February, so you have plenty of time to visit this season.
Broens Skojtebane is open until 26 February from 10am in the morning until 9pm in the evenings and 10pm at weekends, with the bar open half an hour later.
Step into the foody section where you can guzzle a Gasoline Burger, get a taste for chicken at Poulette, or indulge in some sweet mochi Japanese style. There are also crepes along with pasta, sandwiches and traditional Danish food. The perfect winter date!
Frederiksberg neighbourhood has its annual ice-skating rink up for the year, and it's only 50 DKK for a full day with skate hire, or if you're lucky enough to have your own skates then it's free! The open-air rink is decorated for Christmas so expect plenty of twinkly lights and open until the end of February. It's open until 9pm and you can take the metro to Frederiksberg Allé and walk 5 minutes to the rink.

Explore Jægersborg Dyrehave Park
Experience a winter wonderland within 20 minutes of the city at Jægersborg Dyrehave! This lovely park is over 350 years old and includes a large woodland where you can walk in nature and be surrounded by plenty of the resident deer that live here (over 2,000 of them!). The deer are wild but are used to people (although not tame!) so you can often see them walking through the woods or grazing in the fields. It's great all year round but especially pretty in the snow, so if you're lucky enough to be here on a winter day then enjoy the natural beauty with over 10km2 of wild woods to wander about in.
City Park Walks
For some city centre snowy walks then start at Østre Anlæg, right in the city center by the National Gallery of Denmark (SMK) and Botanical Garden. There are some lakes here as well as the Gardens thimselfs, with tropical glass houses to warm up in. Fælledsparken is betweenNørrebro and Østerbro neighbourhoods and has a skate park for extra excitement, and Frederiksberg Park is a nice walk by Copenhagen Zoo with landscaped gardens and a Chinese Summer House.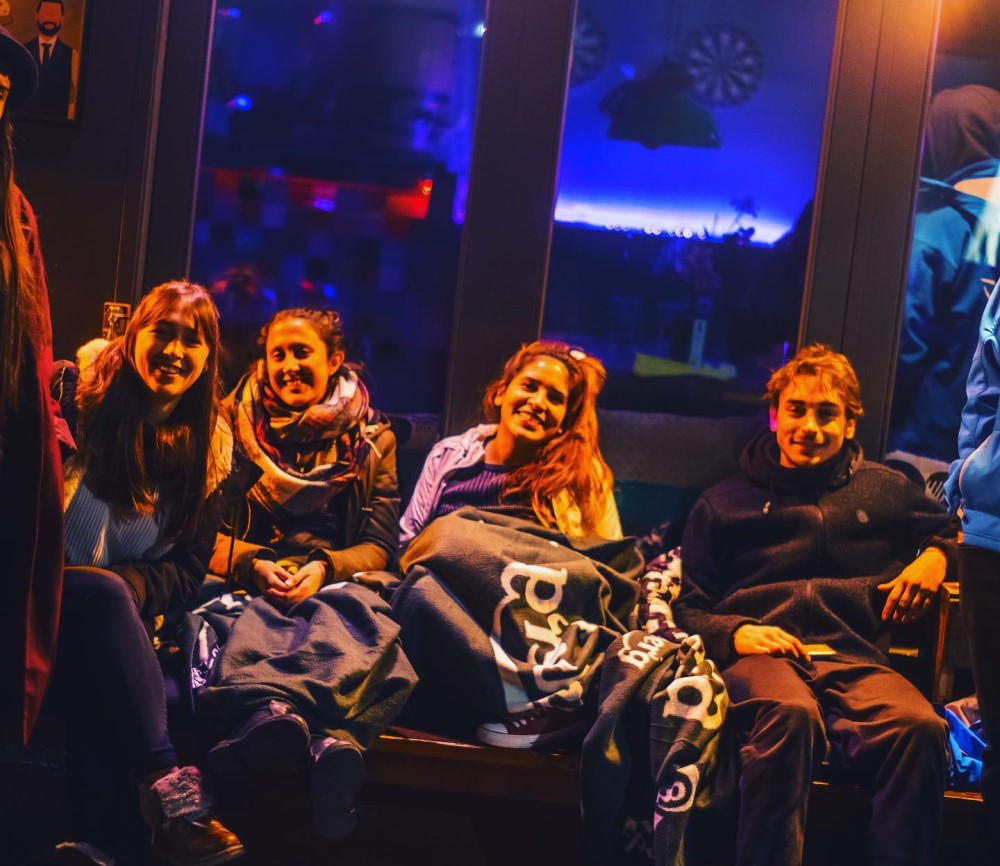 Get Cosy at Copenhagen Downtown Hostel

Our international bar crowd and fantastic staff will make you welcome at our downtown hostel, centrally located by the main station and town square. All you need to do is book a bed with us or drop by our bar for a drink or snack and enjoy the vibe! We have cosy games nights and live music so there is always something going on to get involved in on a wintery day. Check out our bar menu for snacks, sharing plates and plenty of great cocktail offers to keep you going through Happy Hour!
Book directly with us online for the best prices and added benefits and check out our friends at St Christopher's Inns Hostels and Famous Hostels for the best hostels around Europe for Genuine Backpackers.