Explore Lousiana Museum of Modern Art
Despite Copenhagen's impressive number of world-class art galleries and museums to explore in the centre of the city, just 40 minutes train ride from the centre of town, there is the icing on the art cake. An internationally renowned gallery set on the coast overlooking Sweden; Louisiana Museum of Modern Art.
A unique space created through outstanding architecture, a natural setting, and contemporary artists on show, Louisiana achieves a dream-like quality of the perfect place to explore art. Housing a remarkable permanent collection of international and Danish art, including the well-established Giacometti Gallery and the largest collection of contemporary art in Scandinavia; Louisiana also holds some ground-breaking exhibitions. The museum blends art installations into their strong architecture and landscaped sculpture gardens to generate a compelling environment.


Photos courtesy of Lousiana Press Room, Header image is:
Alex Da Corte - Mr. Remember
14.07.2022 - 08.01.2023
Photo: Malle Madsen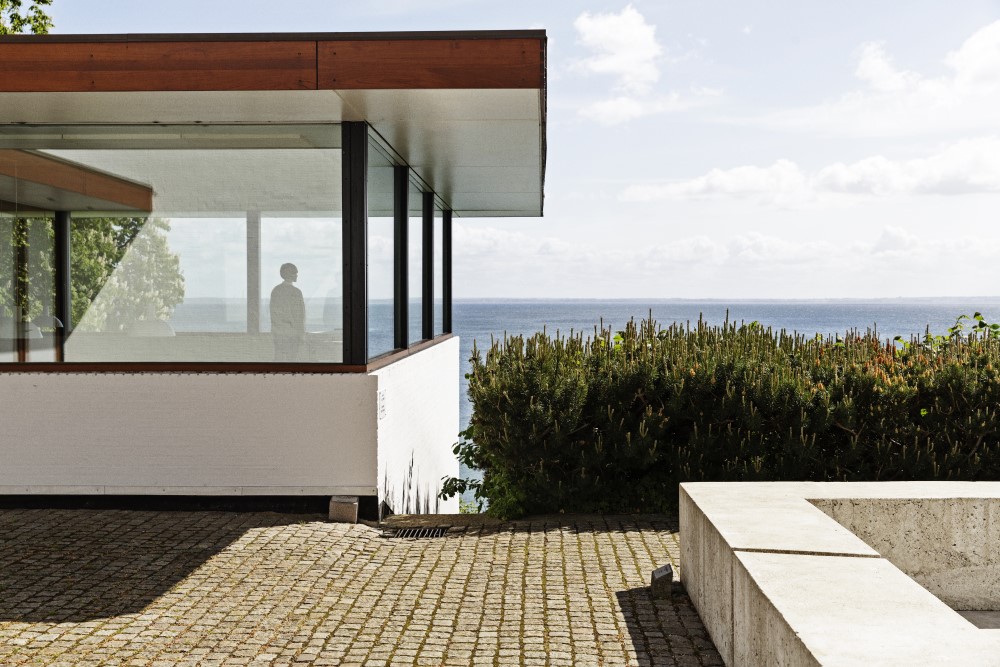 Viewing room in the South wing, exterior.
Photo: Ulrik Jantzen
Credit: Louisiana Museum of Modern Art
Along with an outstanding permanent collection, the museum has been curating exhibitions since the '50s, showcasing Danish talent alongside international famed artists. The museum has a varied and impressive exhibition rostrum with between 6 and 20 exhibitions a year. This also allows for a mix of mediums and interests, with installation, sculpture, photography, painting, and architecture all well-represented.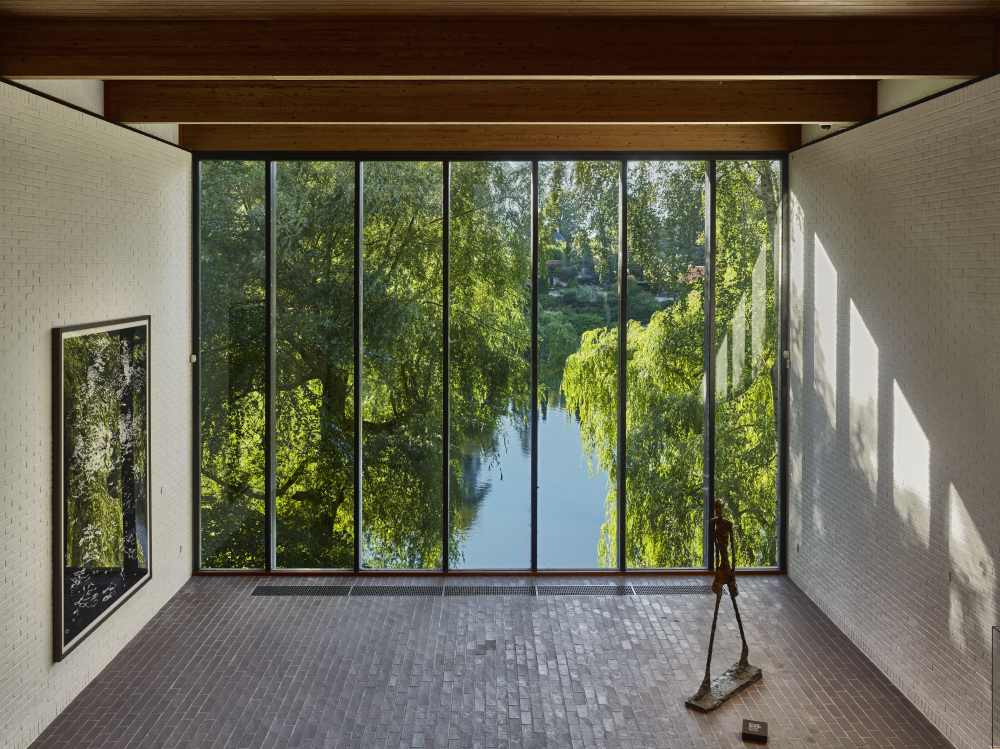 The Giacometti Hall
North wing - two-story exhibition space with sculptures by Alberto Giacometti.
Photo: Jeremy Jachym
Credit: Louisiana Museum of Modern Art


Recent exhibitions have included photographer Diane Arbus, architecture Peter Cook, artists Jerichau, Pia Arke, Mamma Andersson, Arther Jaffa, Troels Worsel, Japanese visionary Tetsumi Kudo, and photographer Taryn Simon have exhibited, as well as the curated exhibition with various artists for the outstanding exhibition, Mother!
Worth the scenic train ride, and you can get a combined train and entrance ticket from the central station. A great place to spend half a day or immerse yourself in art and enjoy the views to Sweden.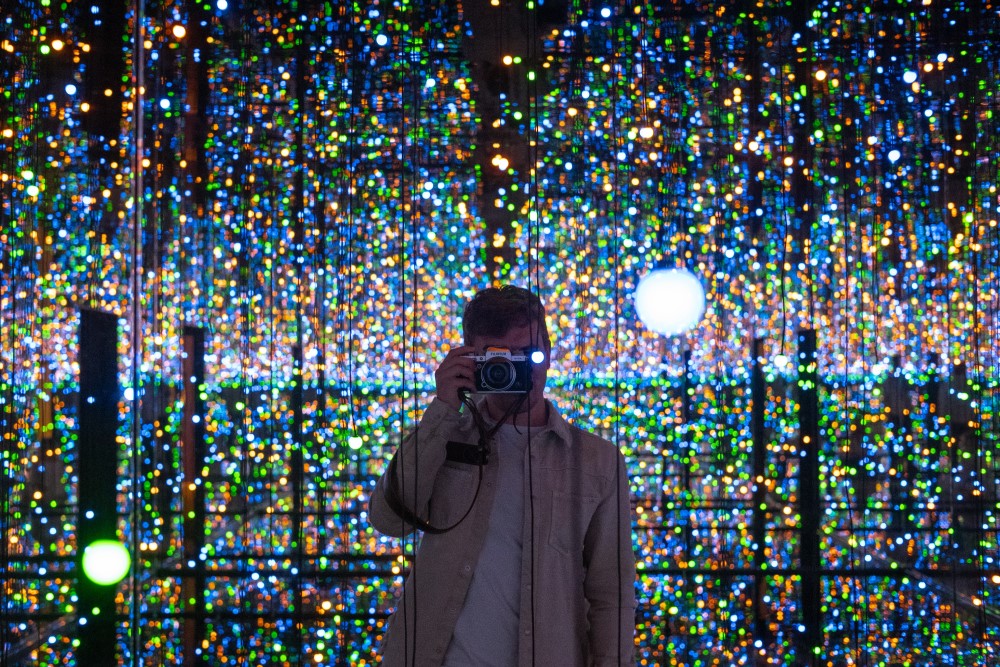 Yayoi Kusama Installation
This must be the most Instagrammed corners of the museums, as you can enjoy the infinity of lights reflected in the famous mirror and water installation. Kusama exhibitions around the world sell-out with people queueing for months to see replicas of this piece of work, and Louisiana has had a Kusama room as part of the permanent collection here since 2008. Welcome to Kusama's installation "Gleaming Lights of the Souls" – a beautiful and spellbinding play with light and infinity. The room is filled with colour-changing lights, mirrors, and a floor of pooled water around a catwalk to create an infinity of light reflections. You can repose (or pose) in the 4mx4m room and experience the pulsing light show produce a constantly changing phenomenon. Well worth exploring!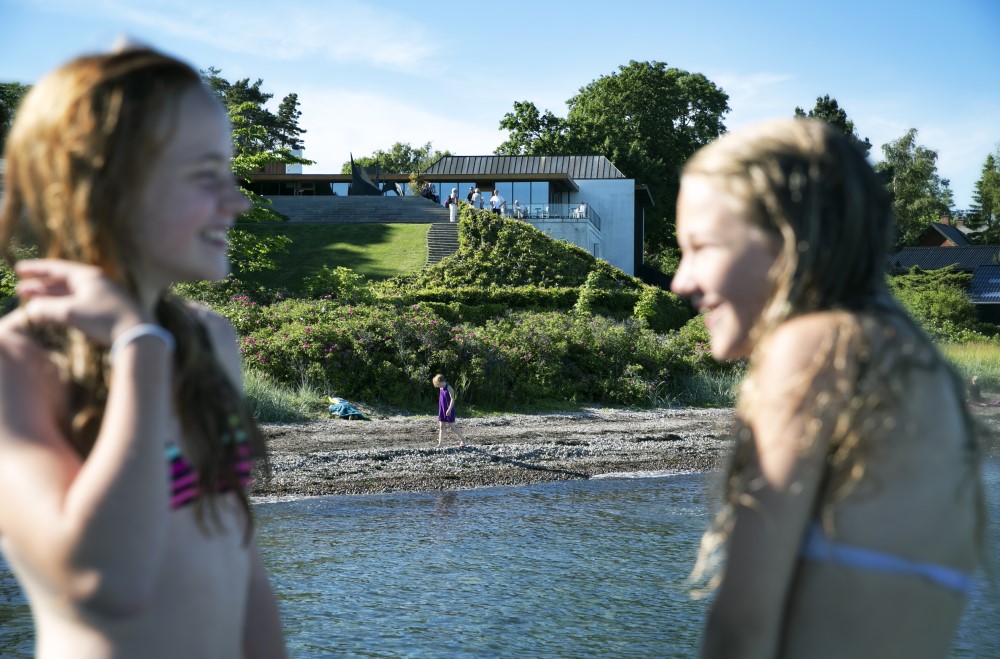 SUMMER IN THE PARK 2020
Atmosphere from the Jean Nouvel bathing bridge on the beach at Louisiana
photo: Bjarke Ørsted
Landscaped Gardens Offering Views
From the glass galleries you can enjoy the symbiotic relationship of the outside and inside, one of the aims of the architecture here. Step from the galleries into a natural outdoor space that also houses art installations and sculpture, overlooking the natural rugged coast. Gardens for all seasons, the landscaped gardens join the museum to the sea and are wonderful to explore, whatever the weather.

You can also enjoy the remarkable Calder Terrace where you can see the artist's balancing mobile style in action with the 26ft Little Janey-Wayney kinetic sculpture, now being included in the current exhibition with a new addition (wait and see).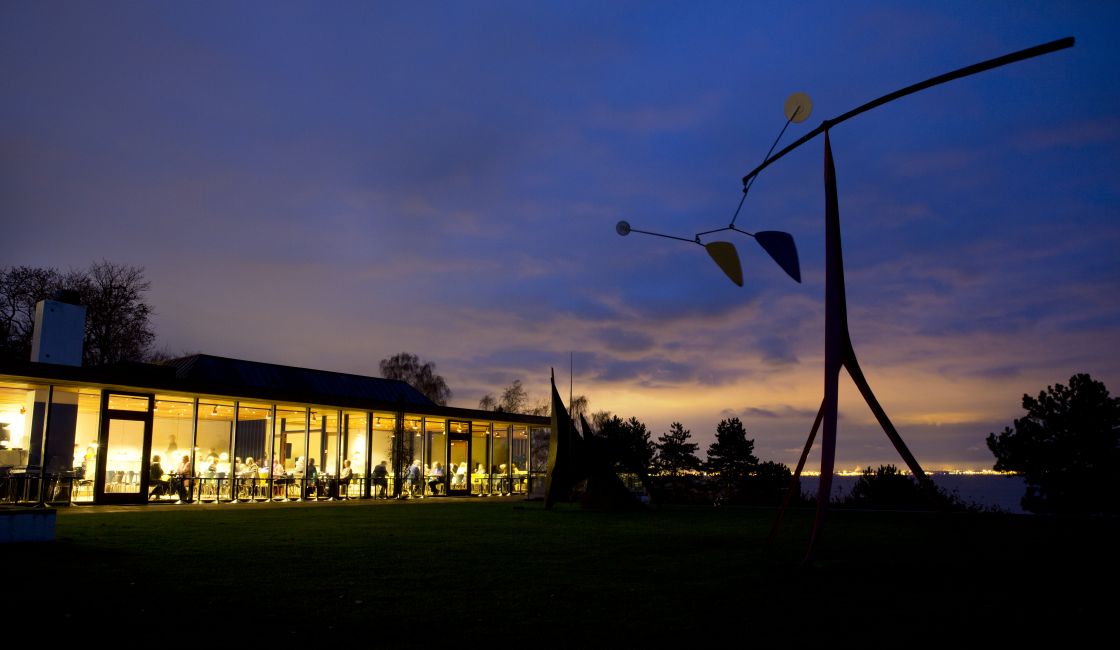 The Calder Terrace.
Photo: Bjarke Ørsted
Credit: Louisiana Museum of Modern Art


The sculptures throughout the garden include mirrored installations that mimic the natural surroundings and the fluid figures of Henry Moore. It is also just a lovely place to walk, with access down to the beach and the sea below – also promising a great view from the café across the water.
One of our favourite places to learn, be inspired, explore, relax and recharge; the carefully curated artwork here and the dynamic exhibitions make for a great day out of town. Take a picnic for the beach or enjoy the museum café, take a stroll outside and be awed by nature.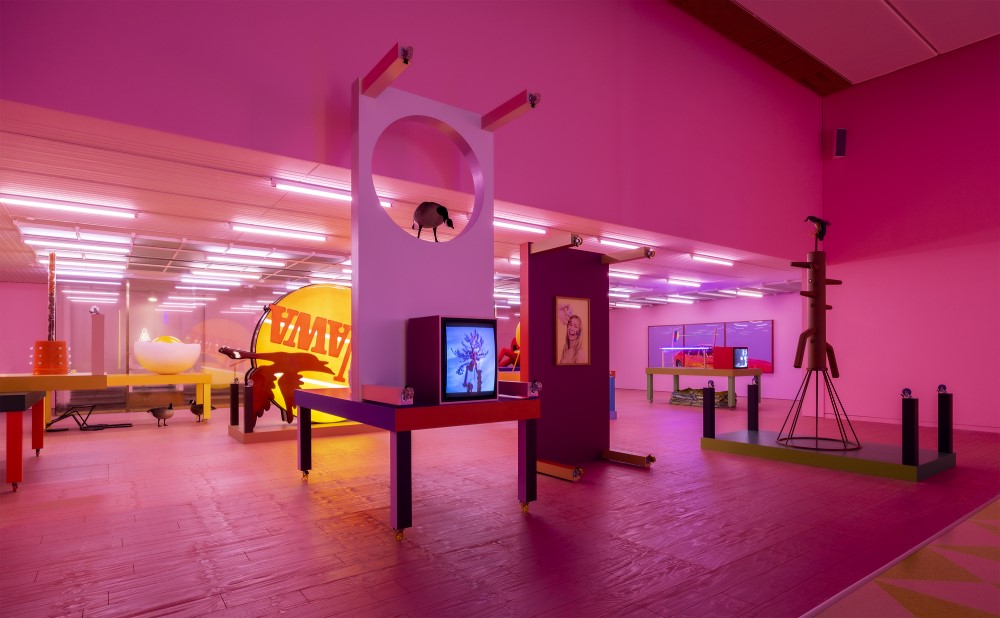 Alex Da Corte - Mr. Remember
14.07.2022 - 08.01.2023
Photo: Malle Madsen
Current Exhibitions
Current Exhibitions include Alex Da Corte's huge visual feast with mixed media including plenty of videos featuring himself in disguise as characters.
Catch Dorothy Iannon's exhibition until 11th September that tells a moving and open tale of her life the past decade, with a colourful collection of sometimes explicit imagery that represents many forms of loving and liberal encounters.
"As Long as the Sun Lasts" is on until 23rd October and is a single sculpture that stands alone in preparation for the Alex Da Corte exhibition and incorporates the Alexander Calder kinetic sculpture in the garden.
Forensic Architecture until 23rd October explores the research from Goldsmith's University in London that investigates conflict and crimes and where these elements intersect. A fascinating and furious vision of video media and the exploits of journalism casting a shadow on human rights within an environment.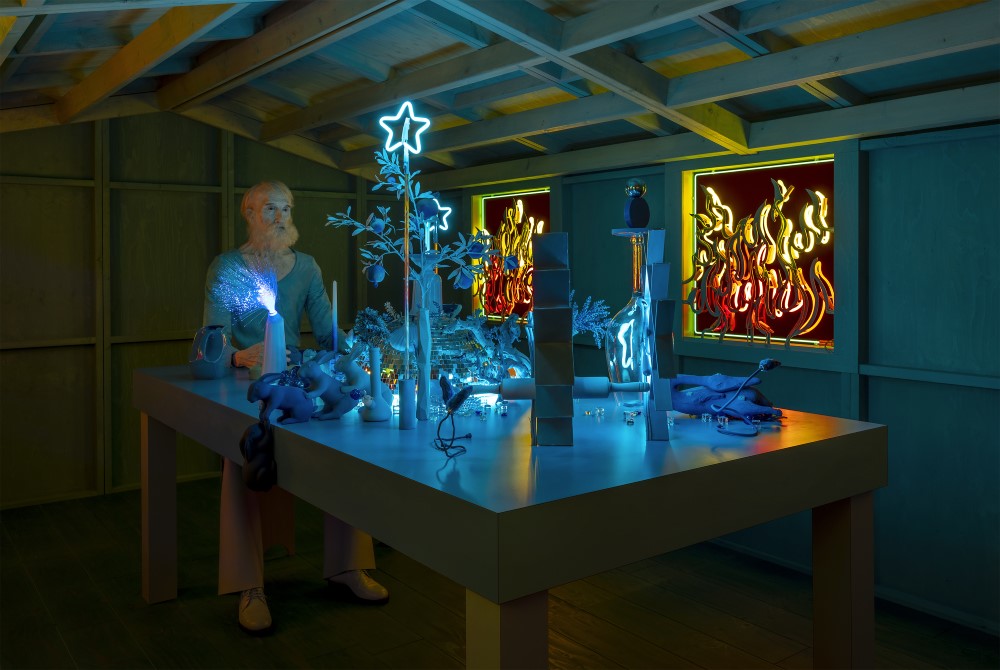 Alex Da Corte - Mr. Remember
14.07.2022 - 08.01.2023
Photo: Malle Madsen
Alex Da Corte
14th July - 8th January 2023
The Venezuelan-American artist born in 1980 brings a colourful world of design and form, lights and video, sculpture and installation. This exhibition is a visual spectacular with plenty of neon and exciting pop art styled video to watch. Expect to see Pink Panther and American iconography, as well as plenty of short films.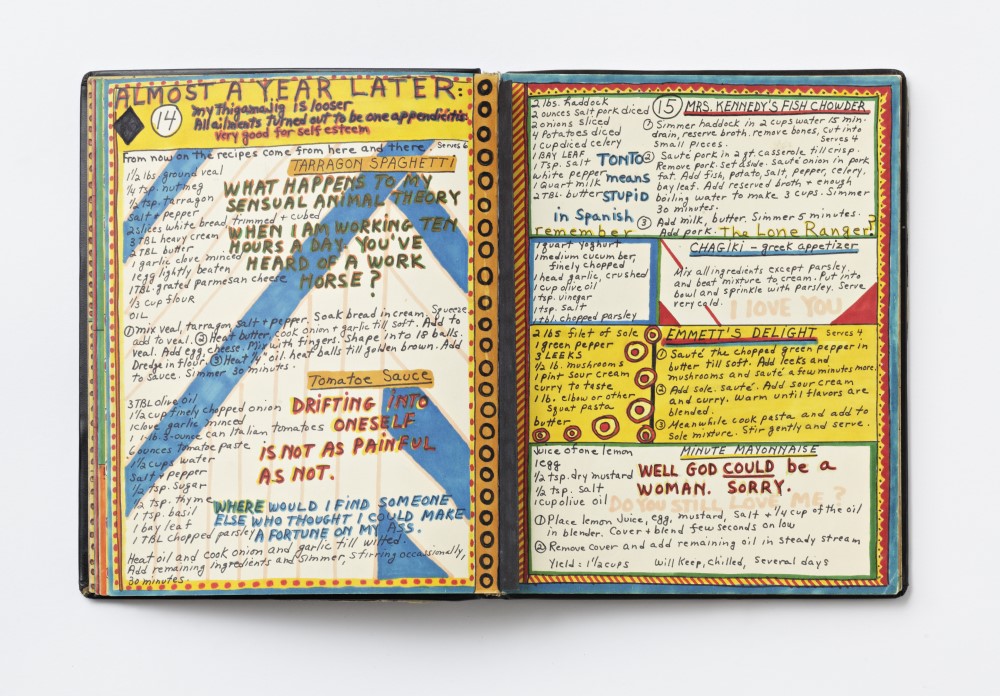 Dorothy Iannone, A cookbook, 1969
Artist's book; felt pen on Bristol board, 69 pages and cover, 30 × 24 cm
Courtesy the Artist, Air de Paris, Romainville and Peres Projects, Berlin
© Dorothy Iannone
Getting There and Away
Louisiana is closed on Mondays!
The best way to get there is by train to Humlebæk station, which is 35 minutes from Copenhagen Central Station with a short walk. If you're driving, there is free parking.
They are open Tuesday-Friday 11am to 10pm, Saturday and Sunday 11am to 6pm. Their delicious cafe serves lunch 12-4pm and dinner 6-9pm, open from 11am for drinks. There is an extensive children's area which takes over 3 floors, open 11-6pm Tuesday to Sunday, and they run lots of workshops for kids, so check those out if you are going with the family. The shop has the most awesome design ideas and gifts, and posters to take away.
Prices: Adults 145 DKK, Students with card, 125 DKK, free for under 18s.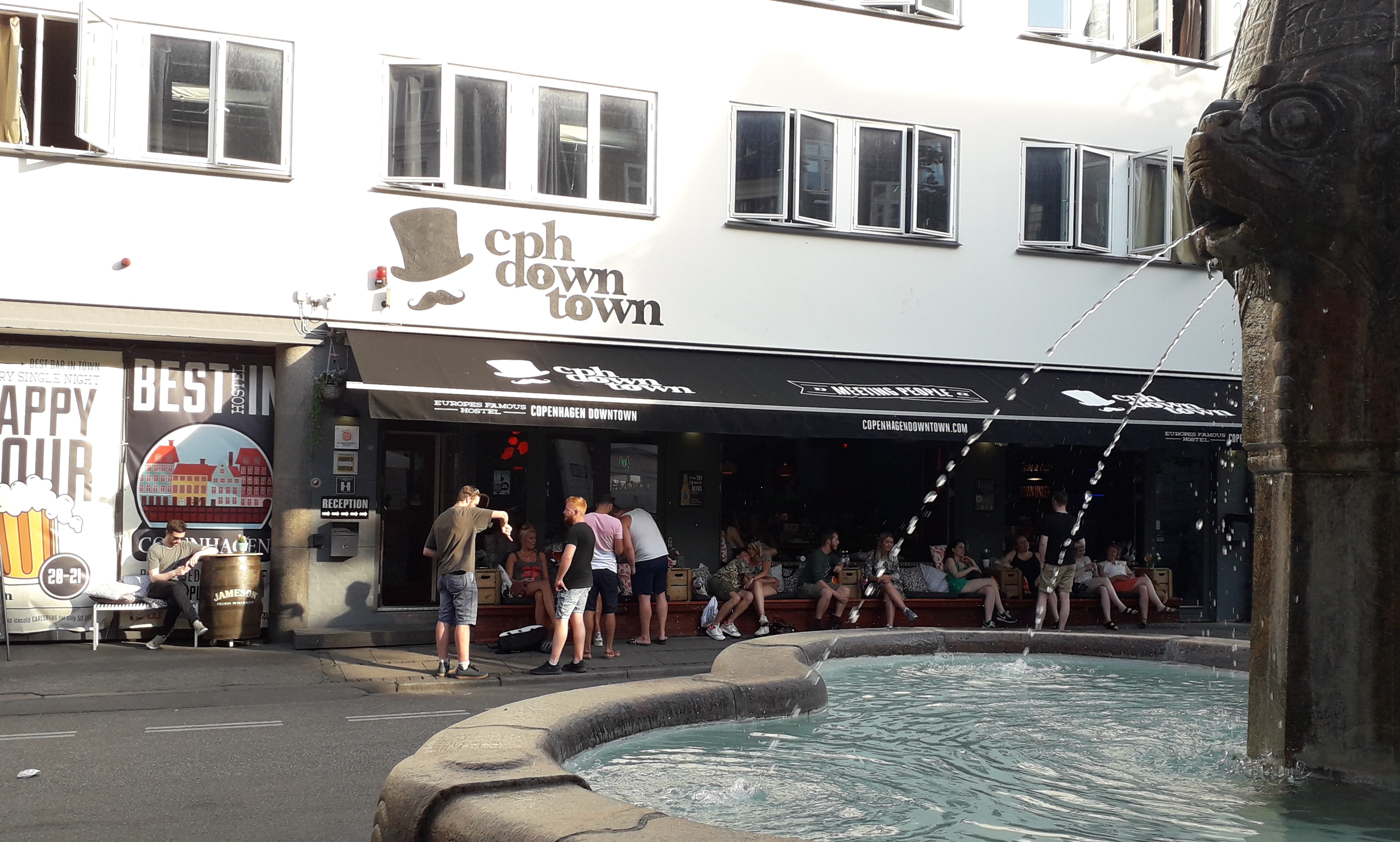 Stay at Copenhagen Downtown Hostel
It goes without saying that Copenhagen Downtown Hostel offers the best and most exciting hostel experience in the city, with a genuine backpacker atmosphere. We also offer a great central location and proximity to all the sights, along with the best happy hour in town. If you are looking for a place that allows you to meet new and interesting people from around the world (and from Copenhagen), rest, relax, have fun, eat, drink, dance, sing, and learn all about the city, then you will find an international crowd in our lounge area and bar. Our friendly team is always available to give you helpful hints and tips on what to see in the city, and we have entertainment and live music in the evenings with a programme running throughout the week. We guarantee you the best experience.
We are also part of the Europe's Famous Hostels network, being the hostel of choice for a network of over 40 hostels across Europe. Find out more about Famous Hostels here www.famoushostels.com. We are also part of the St Christopher's Inn network of hostels in Europe, the best places to Live your Life!