Don't Miss These Events at Copenhagen Downtown this Autumn
Don't miss out on our awesome party events taking place at Copenhagen Downtown this autumn, from our Latin Night to our famous Full Moon Beach Parties and of course OKTOBERFEST. This much fun should be illegal, but it's all under control! We are still celebrating the summer weather and have enough events and parties lined up to take you through until the New Year! But let's not get ahead of ourselves, before then we have our awesome live music events and themed parties for you to have a great time.
Meet new people in our friendly international hostel bar, see where the locals like to mingle, enjoy the best Happy Hour in the whole of Copenhagen, and dress to kill at our awesome Halloween event. Here's what we have lined up for you this autumn.



Latin Night
3rd September
50 DKK entrance including welcome drink and tasty buffet!
This night is like hot sauce. One taste and you won't be able to live without it. Kicking off early at 6pm, we are making tonight a night to remember! The last party was such a success we are throwing another one, where you can enjoy the Latin spirit and mambo beats as we have themed cocktails, food, and of course music.
We will be providing a delicious buffet, have plenty of top reggaeton tunes, and ice cold drinks for you to enjoy. Salsa your way here to Copenhagen Downtown's bar to enjoy a free snack buffet with nachos, quesadillas, taquitos, pizza and more. We will even be throwing in a FREE welcome drink and spinning Latino tunes all night long. So get your maracas ready for some s-s-s-salsa!!!!!
You can RSVP to the event on Facebook here

Oktoberfest
30th September & 10th October
You don't have to be in Munich to enjoy a great beer this Oktoberfest, we host one of the best parties right here! Yes there is the official Oktoberfest party in Copenhagen, but we are hosting our own beer-tastic event, and you have to be there!
Join us for amazing beers, sausages, live music and more.

Competition time!
Take a photo of yourself in your best Oktoberfestoutfit and win a bottle of Jagermestier adn 1 x 3l bottle of beer!
Our amazing drink offers also include:

Jagermeister shots only 5kr
1L Erdinger beer 100 DKK
Grill meal 50 DKK
Cocktails 50 DKK
And of course we will have Live music and a DJ all night!
Find out more about the event here

Halloween Party
29th October, FREE ENTRY
Our costumes may be scary but our bar prices aren't! We will be throwing a Halloween spectacular this fright night with the scariest (and most fun) party night in Copenhagen. Maybe even our best!!
Come in costume, dressed as anyone or anything you like, just not as yourself... We will be throwing a lot of great drink offers your way, with free candy, a FREE shot to anyone in costume, great decorations, scary (but nice) staff, and of course live music all night long. All you need to do is show up and bring your dancing shoes! There is no entry fee!
Fireball shots 5 DKK
Costume Competition - win a bottle of Fireball
Cocktails 50 DKK all night
Live Music and DJ all night
Find out more about our event on Facebook here

Copenhagen Culture Night Party
14th October
This is a night of celebrating Danish culture together and sharing it with our international friends!
Culture Night (Kulturnatten) is one of Copenhagen's most well-attended annual cultural events and has been taking place since 1993.
Culture Night takes place across the whole city, with more than 700 events taking place at various locations and cultural sights. The events all take place at night, giving you a unique way to explore and experience Danish culture. One of our favourites is the museum at night, it's just like the movie! ;)
There is a full programme for you to enjoy, as well as our party to celebrate the occassion.
We invite you to warm up for an evening of fun events with us, starting from 6pm at our international bar.

We will be serving beers, colorful cocktails, and a plenty of great deals and discounts at the bar!! See you there!
For more information see here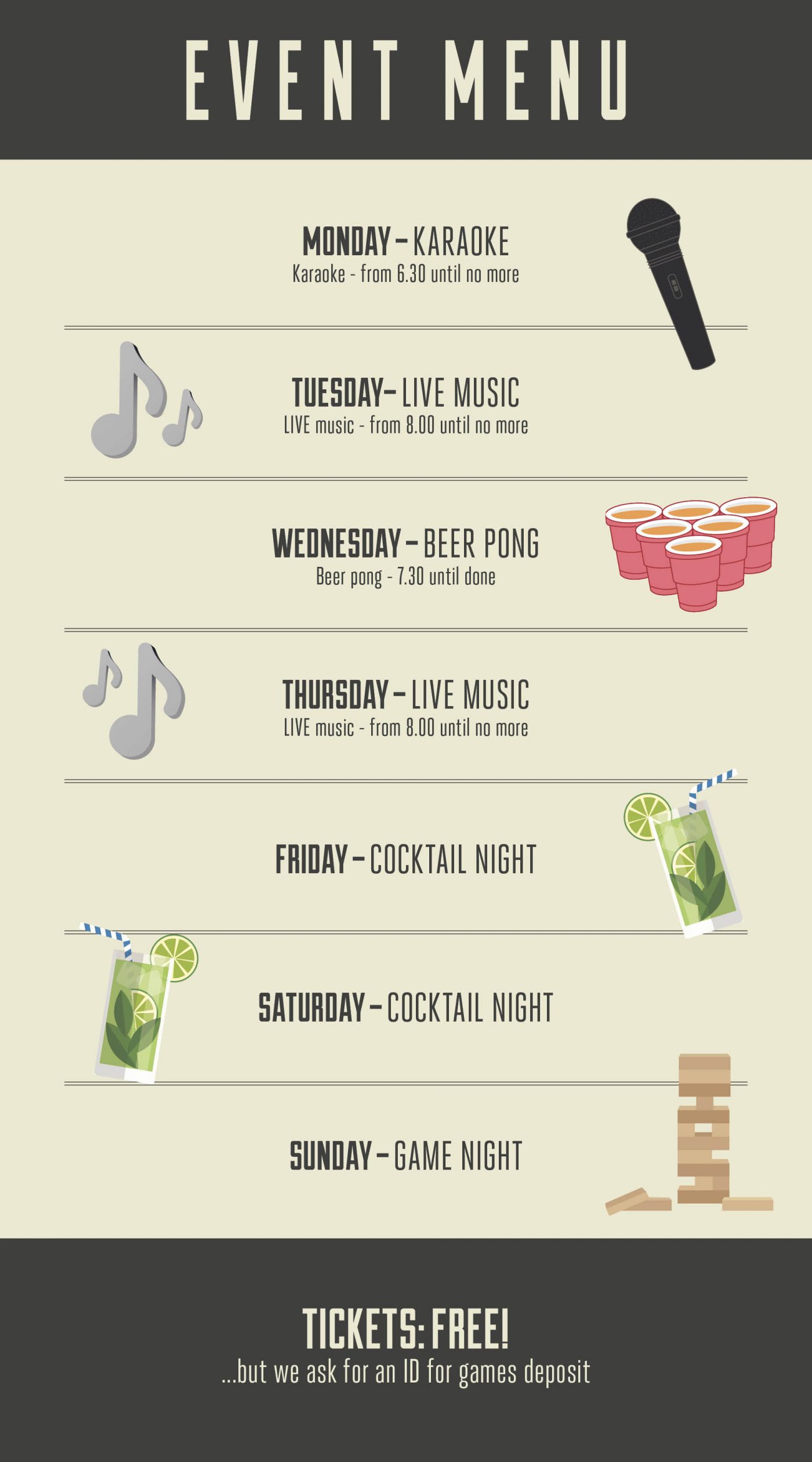 Weekly Events
We start the week Monday with some energizing Karaoke, warming up the mic from 6.30pm with our backpacker special edition. We invite you to sing your favourite tune, whether you have talent or not! Everyone loves a bit of karaoke, so pick your "go-to" song and put your name on the list. It's a little too early for Mariah Carey's "All I Want for Christmas.." but anything goes!
Stepping onto the stage each Tuesday and Thursday is our favourite and most loved guitar and songster Morten! If you've stayed with us before you will be familiar with Morten as our resident live music genius for the past 10 years, filling our international bar with his catchy tunes and sing-a-long favourites. He takes requests Live Music starts at 8pm and goes until the crowd is danced out!
Wednesday we get sporty with our Beer Pong night! For those that don't know the rules to this simple yet effective beer and ball game, think ping pong balls and cups of beer on each side, aiming to sink your ball in the opponents cups forcing them to drink their beer. It's fast and furious, with beer spillage, bouncing balls, and a lot of Until the last cup standing…. Starts at 7.30pm.
Wednesdays we like to meet new people from around the world, it's solo travellers night, which means from 7pm to 10pm you can meet other backpackers. A great chance to socialize, meet others, have fun, and make new memories. Everyone is welcome!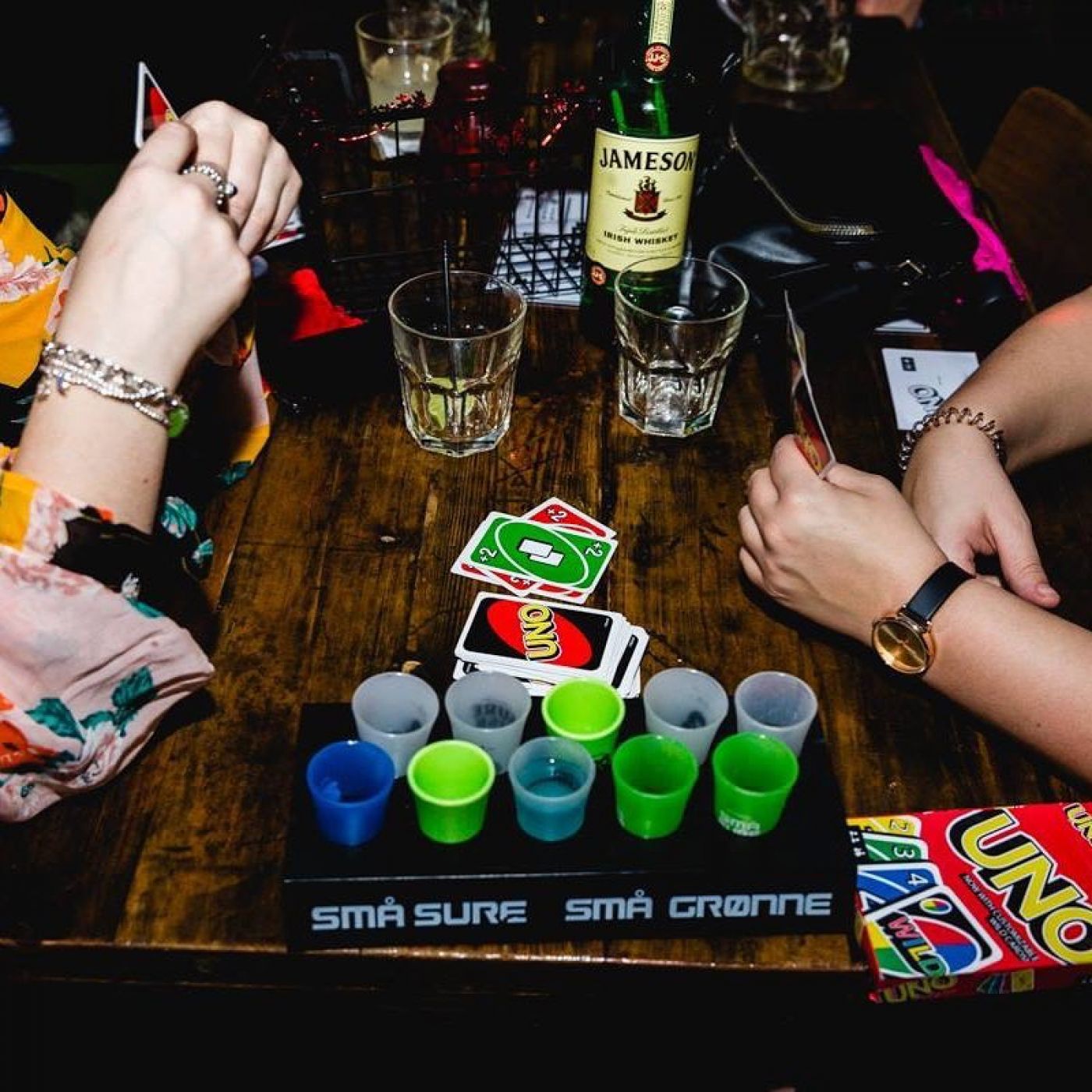 We celebrate the weekend with something sweet, fruity, and stylish - it's Cocktail Time! Every Friday and Saturday Night is Cocktail Night at Copenhagen Downtown, with our bartenders mixing up some classic cocktails along with our house favourites and some sassy surprises. Sip on a Apricot Gin Lemonade, Nutty Passion, or our classic Vodka Nightfall. The best value cocktails in town, all drinks are 2 for 100 DKK! So you can share with a friend, make a new one, or just do the double yourself (drink responsibly please!) Just come on down from 7pm until 10pm to make the most of mixology specials!
Sundays we relax with a classic Games Night. Take it slow with a board game or get hyped for our Mastermind Quizzes. Ever played Uno for shots? If you're not too tired from a weekend of fun then maybe a little competitive Jenga?? It's the perfect time to sit back and relax, we even have popcorn on hand to just chill and watch. Sweet and salty.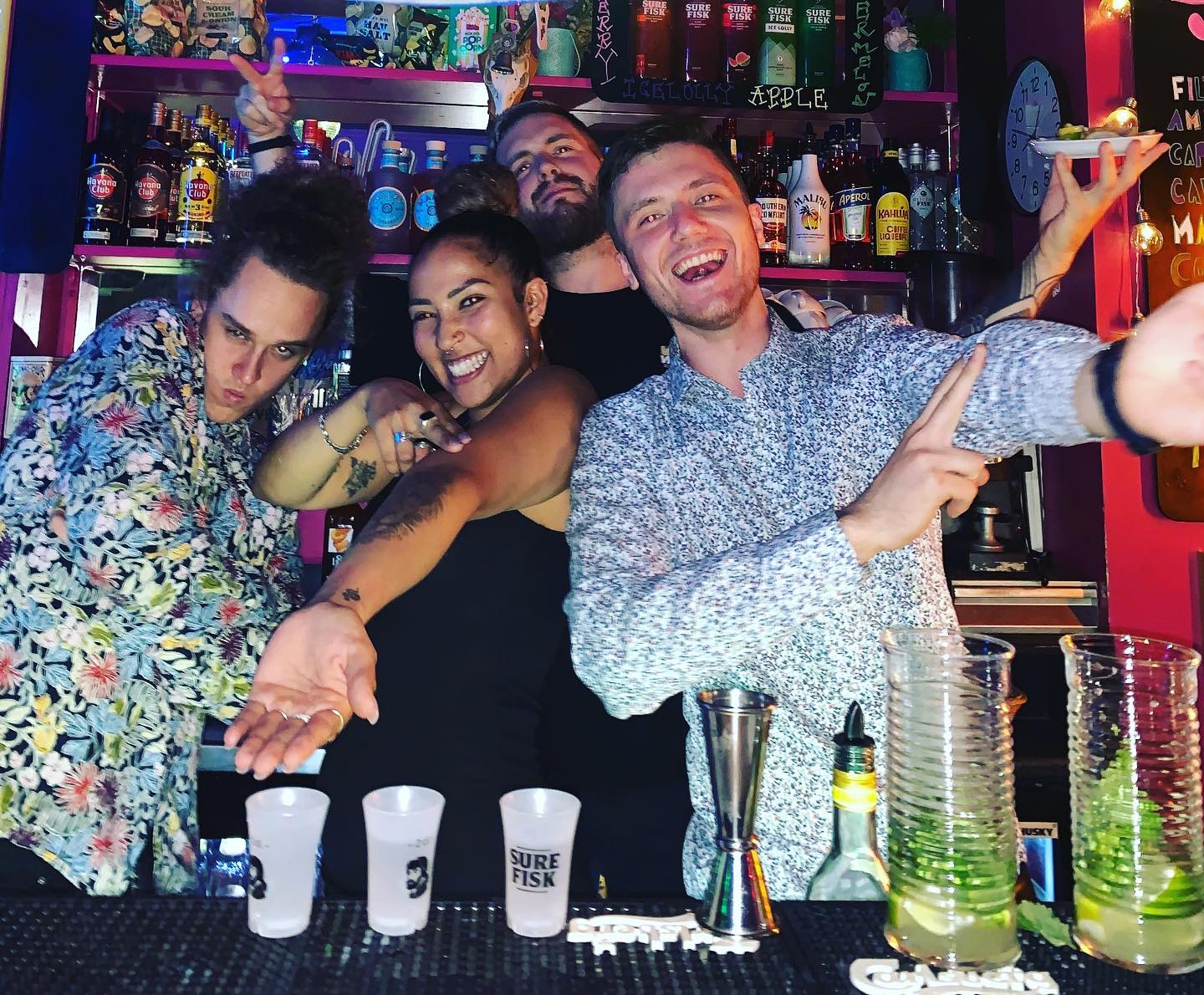 Sleep With Someone Famous
Book your bed at Copenhagen Downtown Hostel and join us for fun times in our lively backpacker bar near Strøget, in Copenhagen's city center. We regularly host awesome parties, rocking live music nights, epic Thai Full Moon parties - with real beach sand! - and a whole load of thrilling party events throughout the year. We can't wait to see you here!
Book directly with us for the best prices and added benefits, and check out our friends at St Christopher's Inns Hostels and Famous Hostels for the best hostels around Europe for Genuine Backpackers.