For the past 6 years Copenhagen Light Festival (CPH Light Festival) has illuminated the city as one of the most visited attractions in Denmark, with sustainable art installations bringing colour, light, music, and sound to the dark winter evenings. Collaborating with international and local artists, the festival brings together creators to transform and illuminate the capital with installations and events, creating routes to bike or walk to see a variety of art in famous and unusual parts of the city. These works will stay around the city throughout the festival and are free to attend! Using light as a method of showing the city in a different way visually, the experimental projections provide a unique way to view the city and highlight elements of architecture and nature as well as engaging the audience to think about the way they see.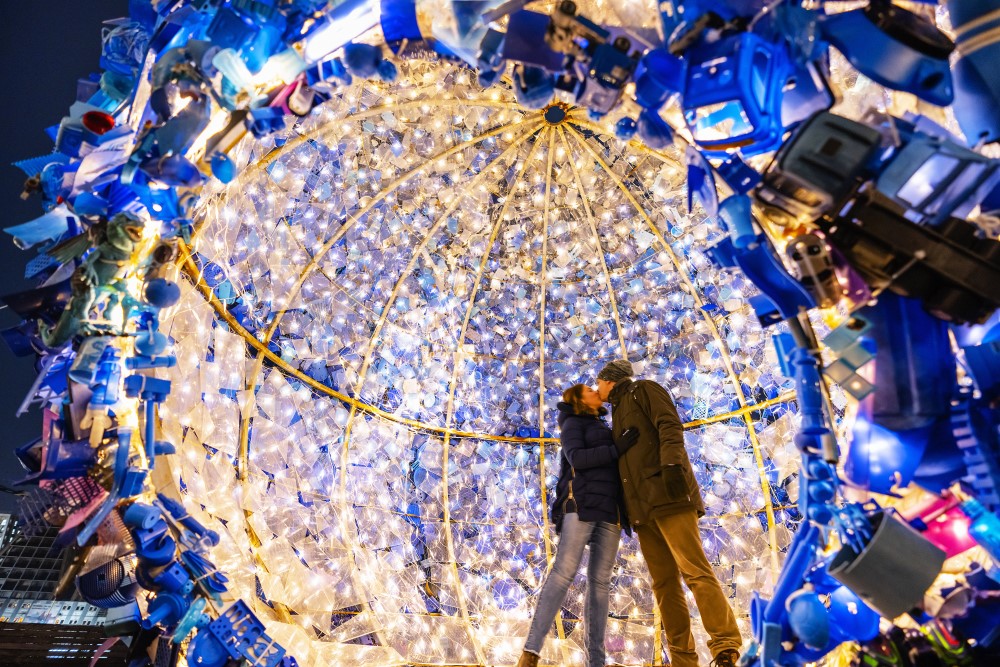 Blue Earth, Copenhagen Light Festival
For 23 days the city will be illuminated, bringing "Light into the winter darkness", by the festival artists creating a whole lot of light! From art installations to the DAC Architecture Run, there are plenty of events taking place to showcase art, light, tech, and a combination of all three. The DAC architecture Run has been moved until Friday 24th due to stormy weather and will be an 8km run along a light-themed route, taking plenty of views around the city and bringing some movement to art! Or take a more relaxed approach and enjoy one of the canal tours where you can see the lights from the water, or they even have wine, beer and dance light tours taking place this year. Check out the festival website for the Friday Beer Tour *Light Festival Edition, Wine and Walk, or the Dance-Tour-go. Check out the events here.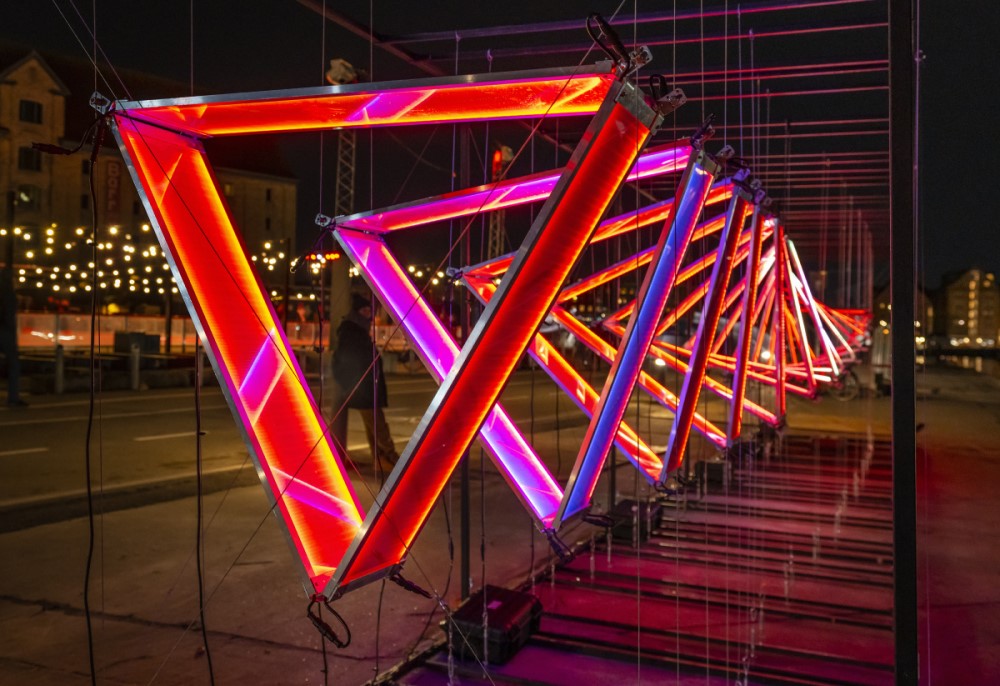 Echo at Copenhagen Light Festival
Lighting up the City
Each year the festival invites different artists to collaborate and participate to bring fresh inspiration and illumination to the city, whether they are lighting up historic buildings, bridges, or landmarks, or creating interactive installations to walk or climb through. The locations vary each year to bring attention to different corners of the city to explore, or see in a different light, with the app providing a light festival "treasure hunt" where you can follow a route to find them. As well as beams of light and set installations, you can also see mapping projections onto buildings in various well-known locations around the city. This year there are more than 55 light installations in place throughout the festival, with 13 of them staying in place beyond the three-week festival period, and in locations beyond the city limits. Light art can be seen from each city district, with the awesome "White Beams" light shining over 10 city districts since mid-January.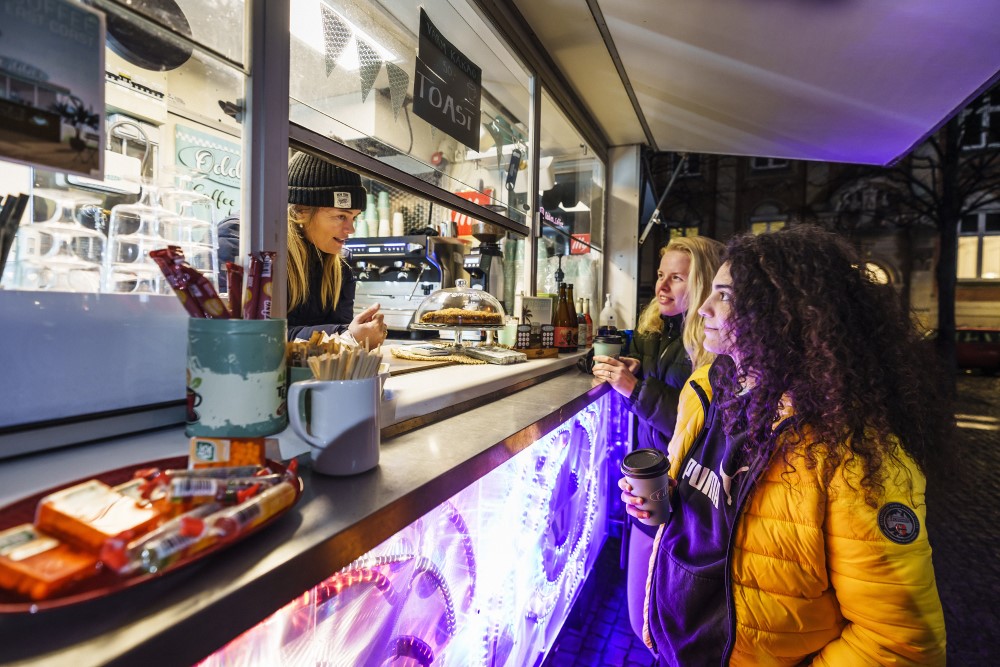 What You Mustn't Miss!
Experience light installations as part of exhibitions such as Vulnus by C999 at the Danish Architecture Center, a video piece on vulnerability, or a fun run illuminated, or shows in outdoor public spaces. On the waterfront you can find showpiece Blue Earth (pictured) in Nyhavn 71 by Maj D, which is a recycled plastic statement project, assisted by 25 volunteers across 16 countries. Plus, you can walk inside it! By Strandgade 95 by the docs there is Echo by Julien Menzel, a fun colourful repeating installation based on the Greek myth of the cursed nymph Echo. We also love Nautilus, a shell shaped illumination on the waterfront by Markus Anders. Waves by Theatrepixels by Frederik D. Hougs and Claus Boysen is a fun dynamic piece that reacts to the weather report, moving with the wind conditions. Expect to see plenty of artwork and light from the bridges over the river, especially at Lille Langebro where you can see Water Walk (pictured) by Tokyo Blue.



Waves at Copenhagen Light Festival

Other works of art in situ include Insekternes Blik by Anna Rosa Hiort-Lorenzen which is more of a plant and insect nature scape in the daytime, lighting up at night to show ultraviolets and other colours that insects see, to appreciate another view of the natural world around us. Sunset Garden and Transcending Messages by Scenograferne+ in the Vestre Kirkegard cemetery bring together hovering shapes in the dark. Time and Place by Tokyo Blue shows how the sunlight moves through a sculpture in the chapel.

This festival provides a unique way to view the city in the dark evenings, while exploring corners you may not have seen before. We hope you enjoy the festival and see some of the illuminations around the city. Take a walk and have a look!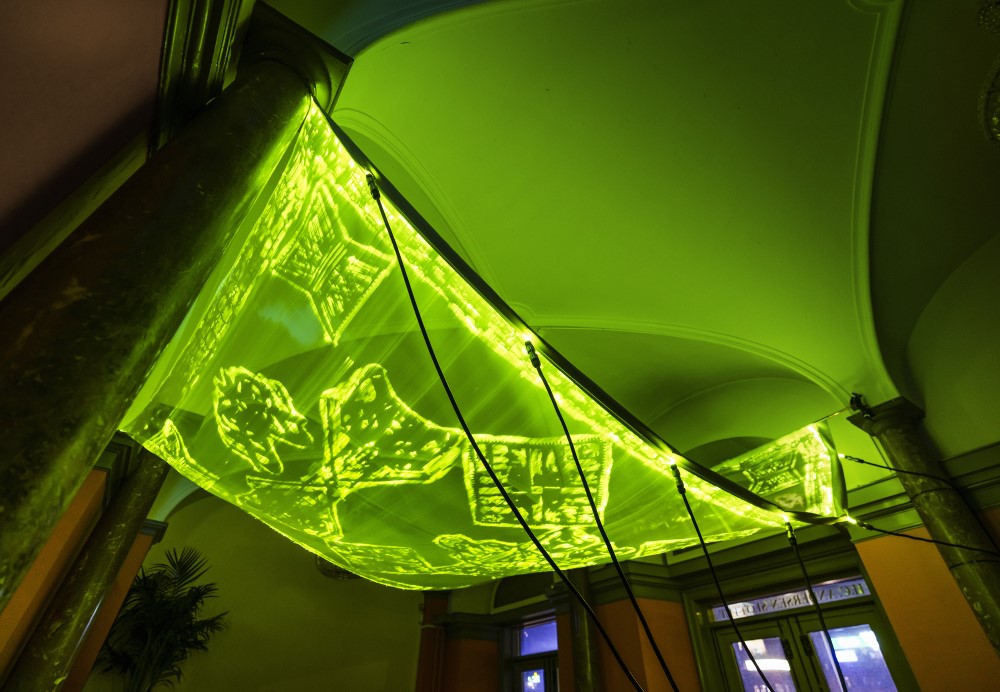 Arachne at Copenhagen Light Festival
Stay at Copenhagen Downtown Hostel

Enjoy a cosy vibe this winter in our award winning downtown hostel! We have plenty of happy hour specials at the bar to keep you warm and a creative food perfect for sharing with friends. Our hostel is retro designed to make you feel at home, and perfect for meeting new people in our lounge area or friendly international bar. Our hostel has private rooms for friends and family, dorm rooms for groups and solo travellers, and female only dorms as an additional option for the ladies.
If you are looking for fun events then we have almost nightly activities for you to take part in, such as live music nights every Tuesday and Thursday, Cocktail nights at the weekend, solo traveller nights, karaoke, and theme parties at our underground event space at Copenhagen Downunder where we have DJs playing into the morning hours! Or chill out at one of our games nights or the lounge and book area. We have something for everyone, and everyone is welcome! We look forward to seeing you here.
Check us out and book your bed direct at www.copenhagendowntown.com for the best rates and benefits.We are the chosen hostel in Copenhagen to be a part of the Europe's Famous Hostels network, a selection of the best hostels in Europe for Genuine Backpackers. Find out more about Famous Hostels and our network of over 40 hostels here.
We are also a part of the St Christopher's Inn network of quality hostels to visit in Europe. Find out about the other hostels here.


All images from Copenhagen Light Festival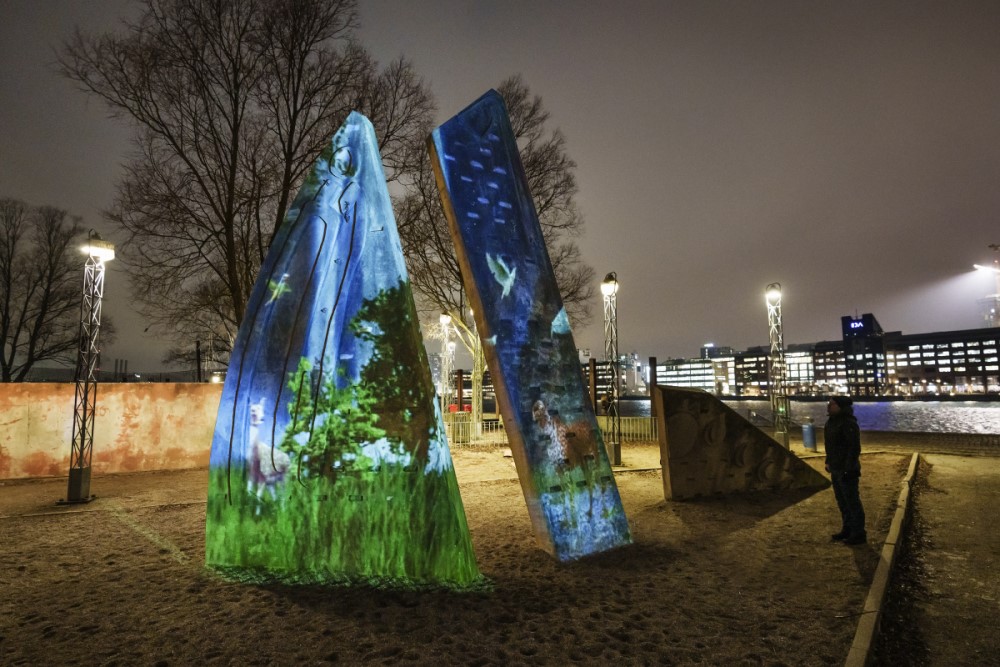 Imprint at Copenhagen Light Festival