Copenhagen Downtown Kickass Bar Adventures 2021
We want to let you into a little secret. In life, there are good parties; and then there are GREAT parties. We throw the second type. If you have stayed with us, then you will already know, we know how to throw a good party, and we put a lot of effort into making sure that are guests have a memorable time. That's you! You're invited.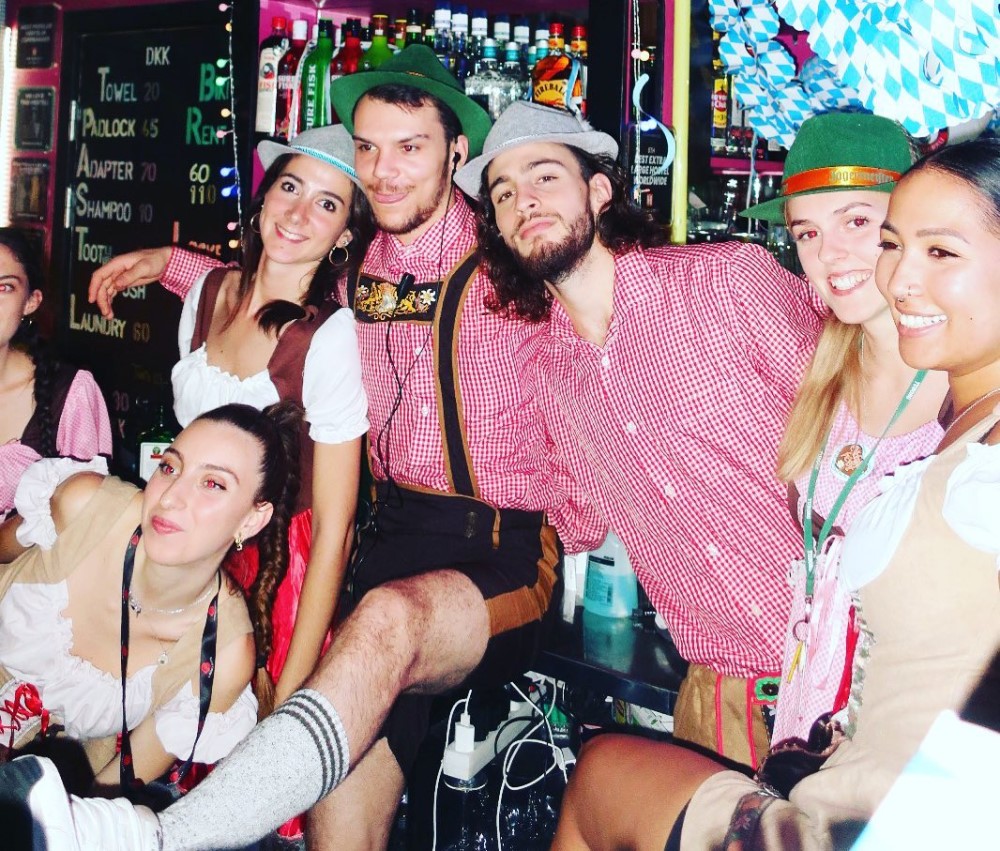 Our parties are held in our international bar where you can meet like-minded people from all over the world. We are also popular with locals - maybe it's the great prices? Maybe our live music and karaoke nights? Or maybe just because we are the best bar in Copenhagen to enjoy an international crowd? Who knows. And, not only are our parties always free entrance, but we also have amazing drink offers with a daily Happy Hour and seasonal drinks specials. We do this out of love, so you can have the most bang for your buck and enjoy the best we have to offer on a small budget, and you can really go to town with our incredible cocktail menu. We have great mocktails too, for those who like to party without a hangover. Everyone is welcome to enjoy our hostel vibe.

Halloween was next level, and we are now gearing up for Christmas and New Year. What better place to be for New Year's Eve than in our epic Copenhagen Downunder bar - complete with lounge areas, stage for live music and DJs and space for games. We even have a container installed! Have you been to one of our Full Moon Parties?? We transport you to a tropical beach, with real sand included. These parties are totally UNMISSABLE!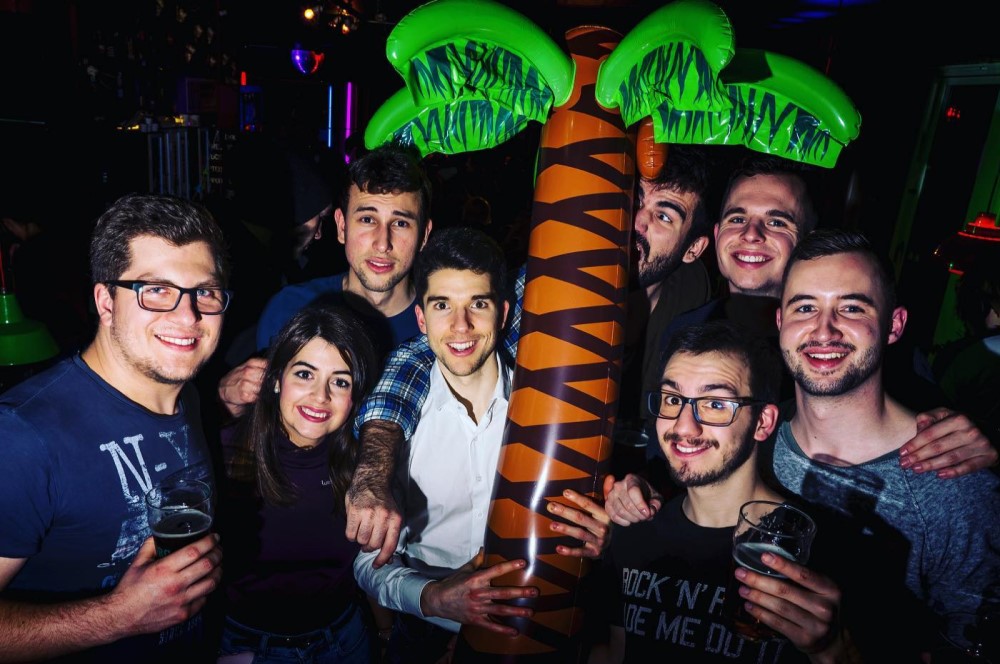 Buzzing Bar Vibe
Live music, karaoke, Happy Hour... what more could you want?? Well, we have more! Banging parties, costumes, free beer - yes, we just threw a whole night of free beer, and we also have the best buzzing bar vibe. Our hostel bar is filled with fun backpackers from all over the world, but also has an amazing crowd of locals who regularly join us to enjoy the fun. Who doesn't love live music and a sing a long?? Come for the amazing happy hour and stay for the vibe!
We have regular 'Open Mic Night' with our favourite musician Morten, who bangs out your favourite tunes on the guitar and gets the crowd going with his awesome singalongs. This is one of the best regular bar nights as the atmosphere is always guaranteed to be buzzing and we don't mind a little dancing on the tables from time to time. And, of course, Happy Hour takes place every night, so that helps!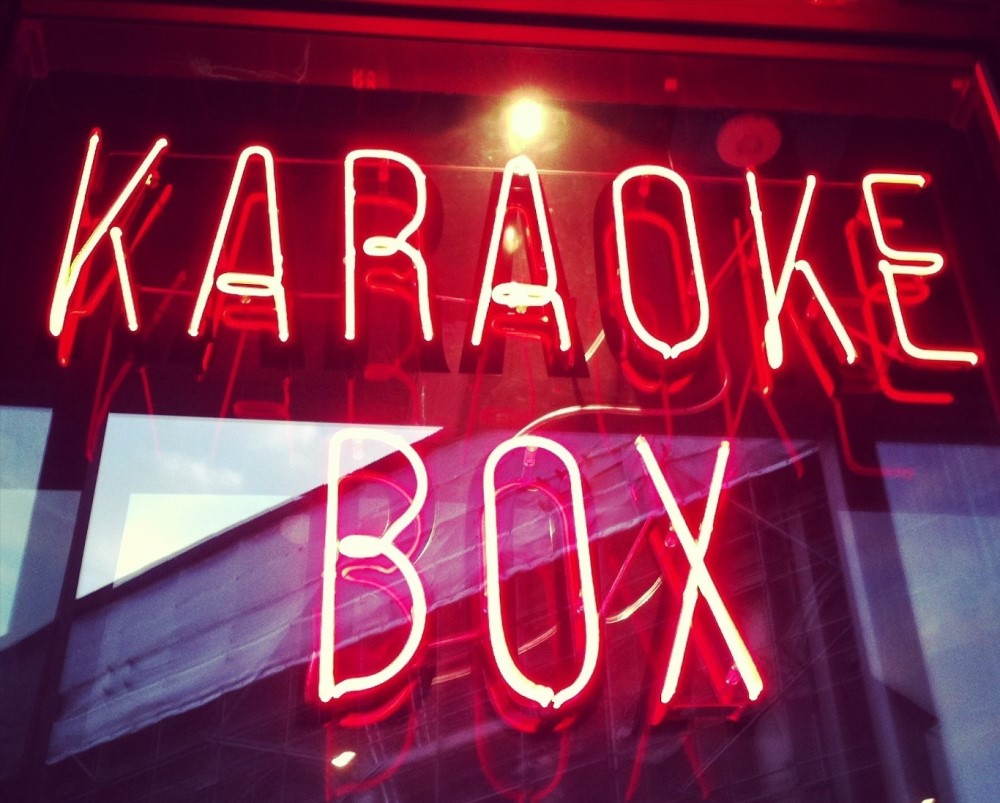 Banging Party Nights
Did you see our Halloween pictures on Instagram? Insane right? And J-Day, where we gave away Tuborg Beer all night long?? Well, we are now gearing up for more fun. We have our Pyjama Party Weekend special 27th and 28th November and again 18th December, Beer Tasting Night 3rd December, Full Moon Parties every month, and of course we are now getting ready for THE party season with Christmas and New Year around the corner. Our Pyjama Party kicks off at 5pm and goes on until 3am, which means you have a whole 10 hours to get your groove on!!
Our Full Moon Parties come with real sand, beach gear, floaties, bikinis and buckets of booze. What more could you want? Also, we have different DJs throughout the night to spoil you with the best dance music and classic tunes. The atmosphere at these parties is insane - you have to see it to believe it!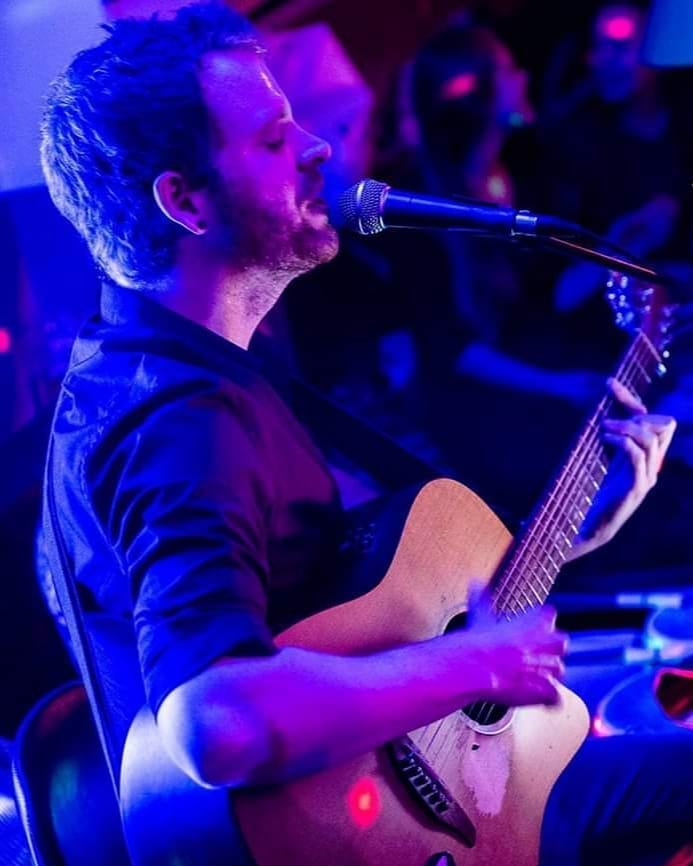 Live Music Every Week with Morten's Open Mic Nights
The talented and amazing Morten has over 700 songs in his repertoire, so he can take requests and knows how to get the crowd going on Open Mic Night! Expect some high energy Latin music and all the cheesy classics, who doesn't love some singalong from Grease?? Not only does he do Open Mic every week, or sometimes twice a week, he also hosts gigs in our Downunder Bar. Do you know Morten? If you stayed here at Copenhagen Downtown then you must do!! We host live music nights twice a week, so that is a lot of fun to have right there, but we have more....!!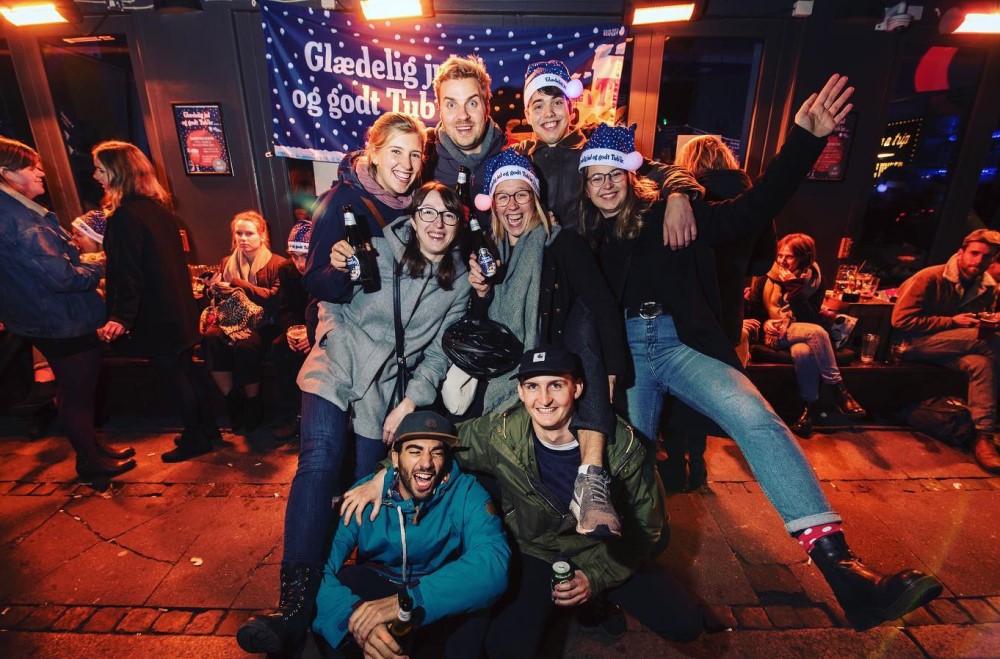 Amazing Happy Hour Deals!
Our Happy Hour is famous in Copenhagen. We give you the best possible deals so you can have the most fun on a budget. Also, if you booked direct with us, you get 10% discount at the bar!! Check out our offers on beer buckets, cocktails, Jaeger and more.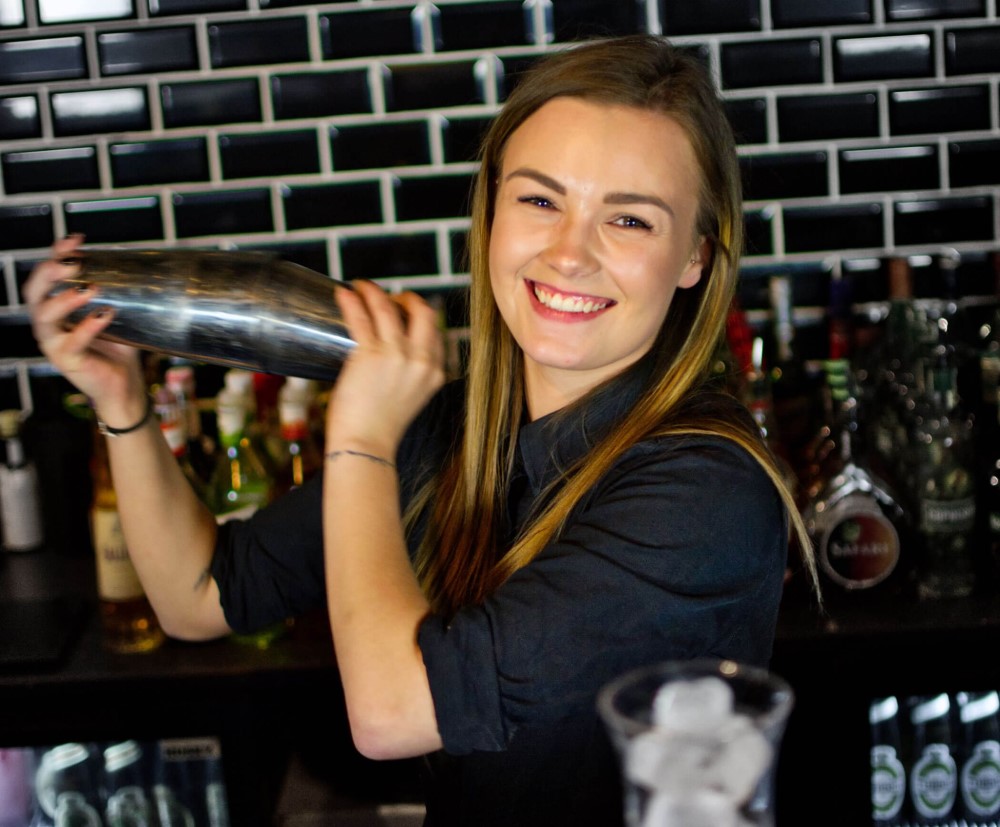 Probably the Best Bar Staff in Copenhagen
We have the best bar staff in Copenhagen, and we make the best cocktails. We know, because we invented most of them ourselves, and we have tried them all!! Our team of expert bartenders are a big happy family, here to serve you the perfect drink, make the best nights possible, and to welcome you to our Copenhagen hostel. We love our jobs and have a lot of fun making your stay with us the best it can be. And it shows! We are always coming up with crazy new shots (try them, they're good!) and recipes for kick ass cocktails. Along with choosing the best tunes
We have a lot of fun working here and it shows! We love our guests having a great time too, and we're always thinking of new Happy Hour offers, choosing top tunes to play and mixing you the best cocktails! Come along and say hello, we always have a friendly welcome!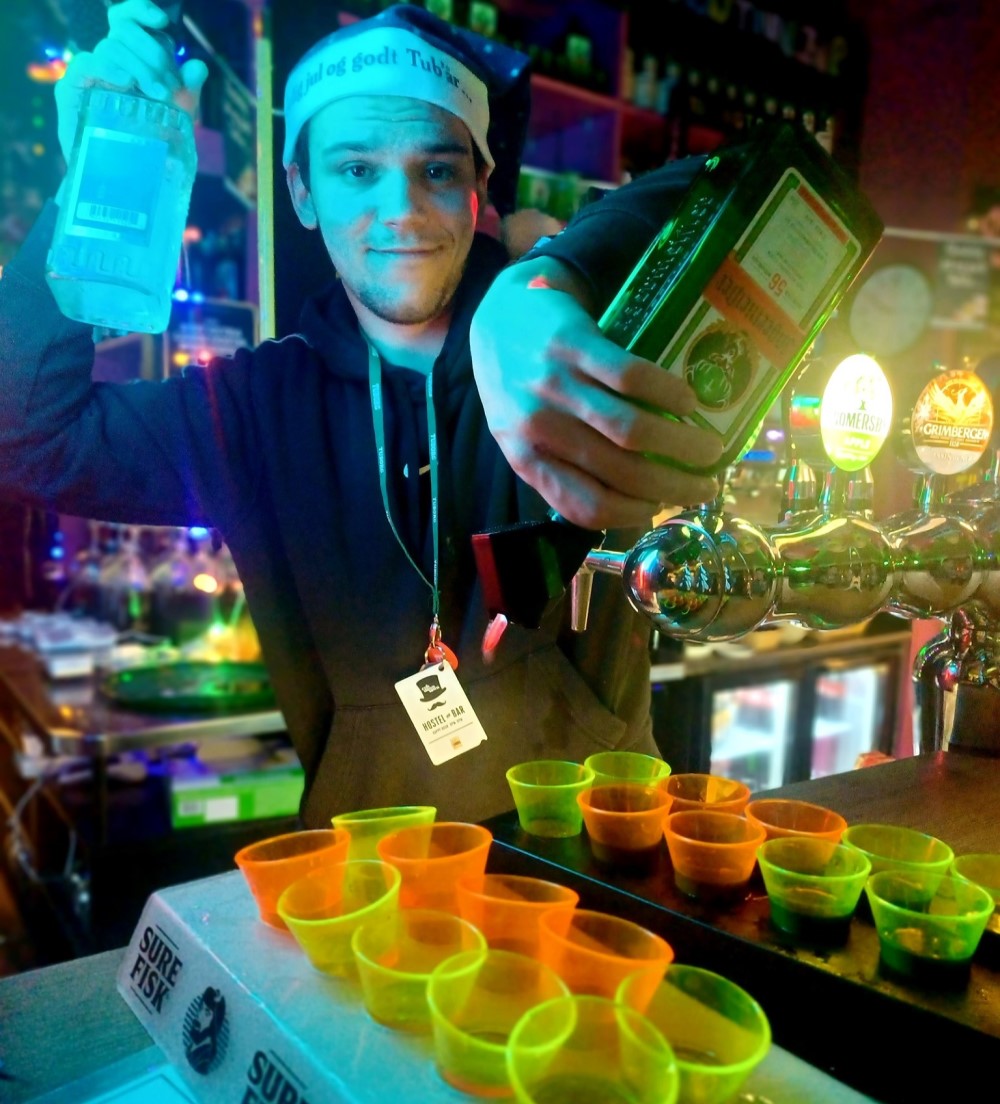 Stay With Us at Copenhagen Downtown
We are a party hostel, and the number one party hostel in Copenhagen. So, if you are looking to have some serious fun, in an international atmosphere, then Downtown is the place for you.

We have a great atmosphere in our retro designed hostel, and awesome happy hour prices at our friendly bar! Stay at the best hostel in town right here with us.
We are part of the Europe's Famous Hostels network of the best hostels in Europe, being the hostel of choice for the Genuine Backpacker. Find out more about Famous Hostels here www.famoushostels.com
Copenhagen Downtown is a proud member of Famous Hostels. Book your stay with us for a #GenuineBackpacker experience!