Copenhagen Distortion Festival 2023 this May
31st May - 4th June
One of the city's most exciting dance music parties arrives in Copenhagen for Distortion Festival 2023 this May. The festival brings music and dancing to the streets for bloc parties, raves, and more! With plenty of free events to enjoy and hopefully some sunny weather, this is an unmissable party for anyone who loves dance music. Think of it as streets filled with revellers, a little bit of organised chaos (one of Distortion's themes) and some booty shaking music from Danish and international artists. With live music and DJs playing in the day, you can also enjoy the weekend parties at Distortion Ø late through the night (tickets needed!)
The festival includes various programmes including the street parties, Distortion Ø weekend night raves, and Distortion X. There is even a dog party at HundeDistortion2, part of ActionHygge! The programme also includes family friendly events and teh communal dinner, all part of bringing people together in the neighbourhood. Get your tickets at cphdistortion.dk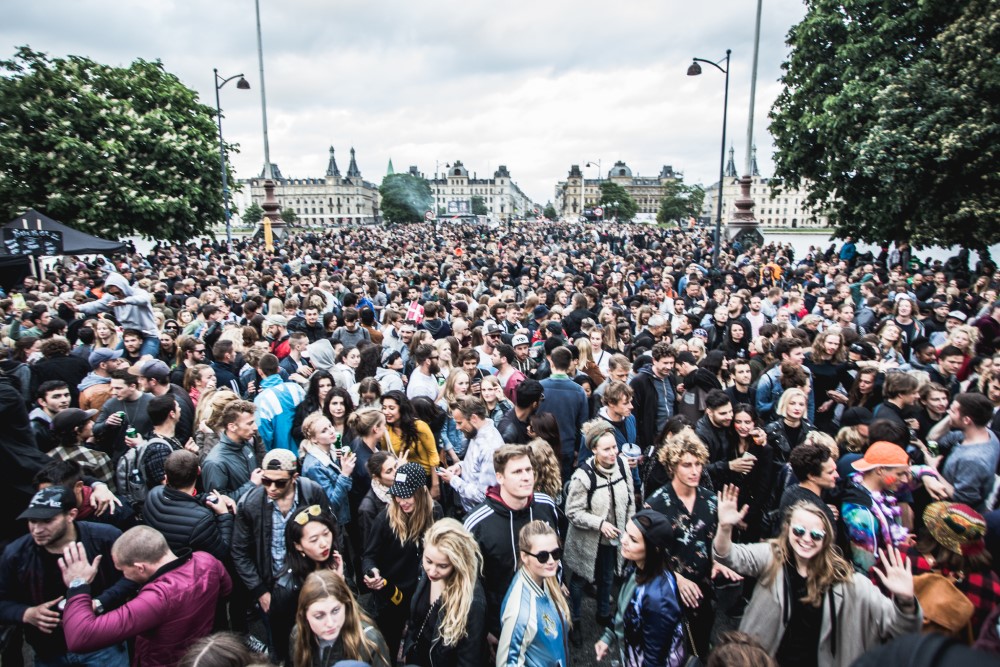 Header image courtesty of Distortion Press Archive and photographer Andreas Holm, above image Dennis Frandsen
What is it all about?
Celebrating 25 years of "street life and new dance music", Distortion began as an experimental party in 1998. By 2000 it had grown to a 5-day party which moved through a different district each day. The parties were small groups with bbqs, parties, music, and a party bus, and then with the help of Copenhagen City Council in 2011 grew to 100,000+ guests at a bloc party in Vesterbro neighbourhood! Since then, Distortion has been bringing dance music to the streets each year for local and international partygoers.
Distortion is not-for-profit and supports arts and social projects in public spaces.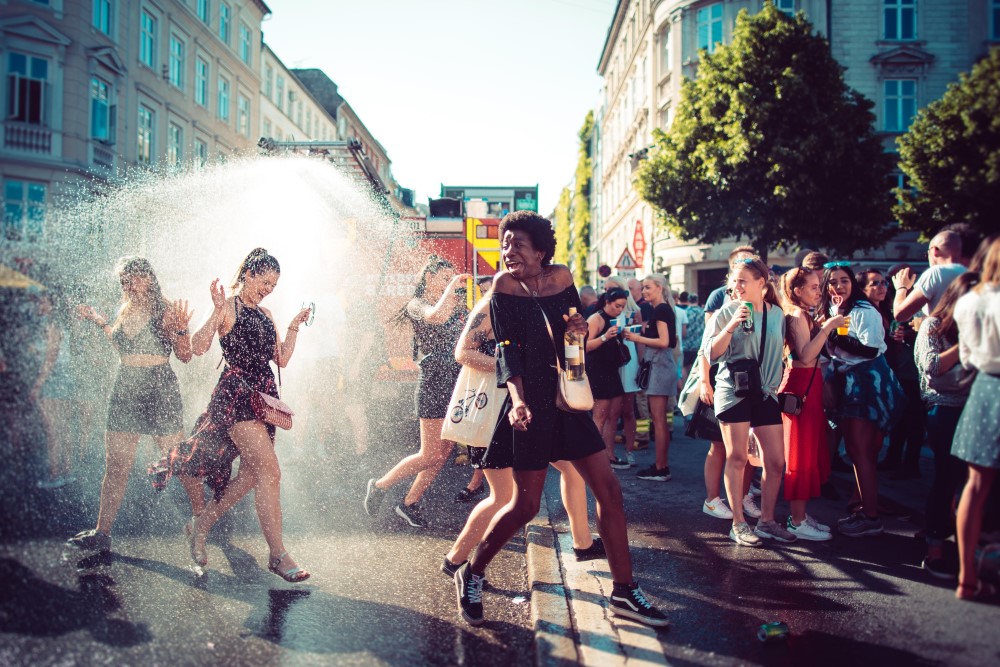 What and where?
The festival includes various programmes including the street parties, Distortion Ø weekend night raves, and Distortion X. Vesterbro Street Party, Havnefest and all Actionhygge events are free, others require tickets.

The best known (and our favourite) part of Distortion is the Vesterbro street party Thursday 1st June, which is taking place in Vesterbro neighbourhood again this year. Expect the usual line up of music and fun, with activities also for families and dinners. Vesterbro is also hosting the ActionHygge and Distortion X events. The Street Party is free, and no tickets are needed. Distortion Ø is taking place at the weekend only and is a ticketed event.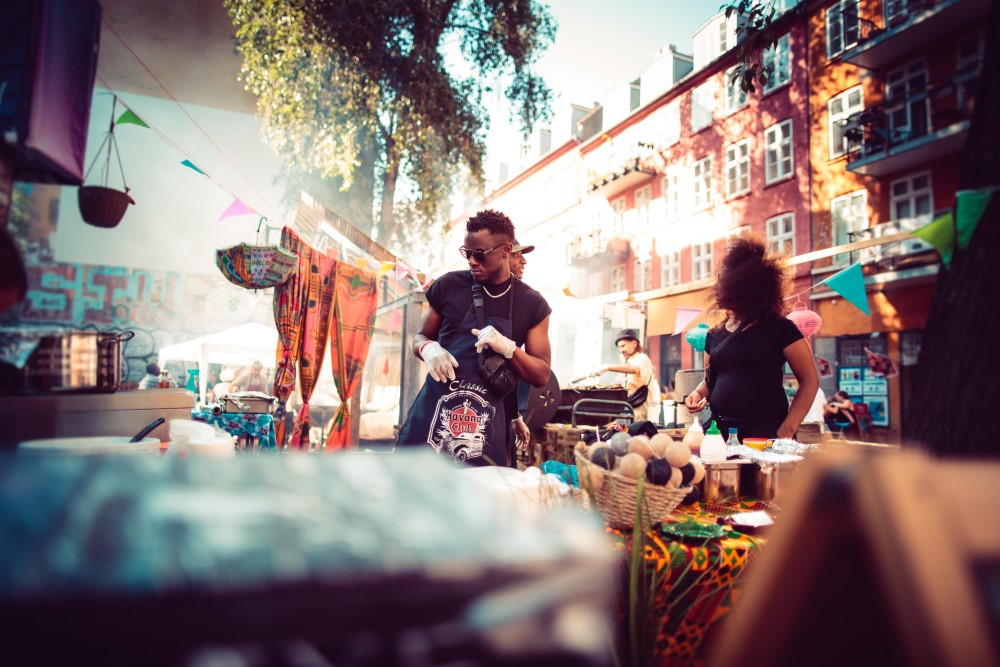 Image courtesty of Distortion Press Archive and photographer Andreas Holm
ActionHygge
These events are free and for all ages, with everything from skating and hip hop to dogs and dinner. The ActionHygge events are made to be smaller and more accessible, including smaller concerts, events, talks and social experiences. The Alors On Danse event is designed to get your body moving, with pop-up dance events with insturctors and even a competition. Mexican tacos favourite La Neta will be hosting a Latin party where you can salsa and mambo your way around to the music, 4pm-10pm, and one of the most famous events will be taking place on Istedgadegade which is the communal dinner. This ticketed event allows you to enjoy an evening of community dining where foodtrucks and even famous Michelin star chefs serve up food. Or enjoy a party for dogs, or DIDAKT Theater company's pop-up Murder of Romeo and Juliet.
Stille og Rolig Distortion gives you a chill out concert on the grass with everything from classical contemporary and experimental electronic, 4pm-10pm. Sidewalk Skate Down will have competitions for tricks and some hip hip mini shows at Enghave Skatepark, 4pm-10pm. Saxogade Doom Level will have street entertainment and installations, come and enjoy the music and take part in the giant community painting, 4pm-10pm. Ride!Sing!Repeat" will be producing rebel opera i nthe streets, and New Kids On The Block is for 12-17 year olds to perform and is a safe space for kids.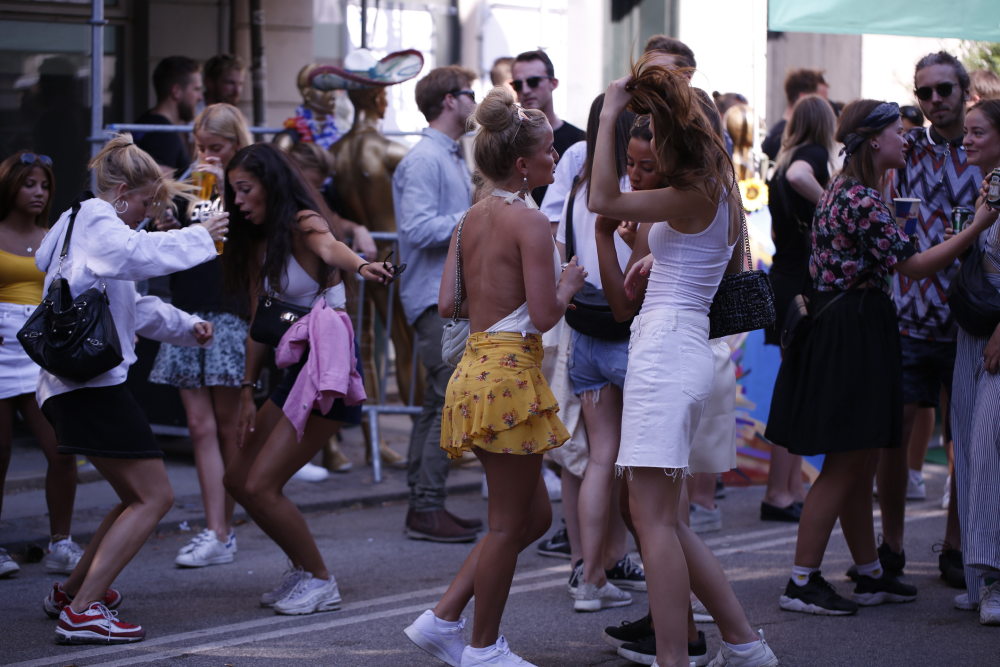 Image courtesty of Distortion Press Archive and photographer Alvaro GM
Distortion Ø
2-3rd June
Copenhagen's Distortion Ø is the 2 day night dance party event that takes place over the weekend. Last year tickets sold out so don't wait to get your tickets to the last minute. The dancing begins at 6pm Friday until 4am, then Saturday 6pm until 6am, so prepare for a late night and it's outdoor, so any weather!
Distortion Ø takes place away from the city centre at Refshaleøen and has the big name DJs that make this park rave a unique experience! The line-up includes famous artists such as Charlotte de Witte from Belgium and German's Monolink. Expect sets in the line up from Germany's Kollektiv Turmstrasse, 999999999 from Italy, Anna from Brazil, Trym from France, Sama'Abdulhadi, Palms Trax from the UK, Eris Drew & Octo Octa, Moodymann, Honey Dijon, and The Blessed Madonna from the US. This will be an awesome experience for any new dance music lovers!
Tickets
Vesterbro Street Party, Havnefest and all Actionhygge events are free. For tickets you can buy a Festival Pass (1100) or individual tickets for Distortion Ø (from 550DKK to 900DKK) or Distortion X (250DKK) and you will be given a wristband. Most Distortion Club events are 21 years + of age, the whole festival is 18+.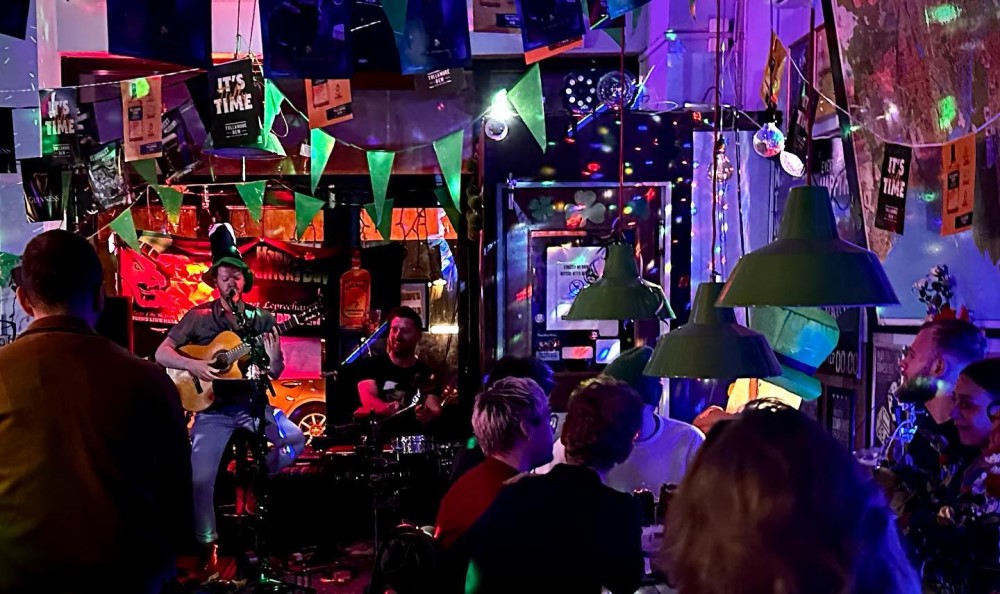 Book your Bed with Copenhagen Downtown Hostel
The party doesn't stop after the Distortion events are over, here at Copenhagen Downtown we have a BIG party bar which is just perfect for the after party! Our live music and event space Copenhagen Downunder throws parties and showcases live music talent until LATE, and of course our upstairs international bar has a legendary happy hour and themed parties. Expect something extra for Distortion weekend!
Book your bed with us at Copenhagen Downtown Hostel for the best party time guaranteed - don't miss out on the fun. Come and enjoy our international crowd and the best hostel vibe in Copenhagen.
Check us out and book your bed direct at www.copenhagendowntown.com for the best rates and benefits.We are the chosen hostel in Copenhagen to be a part of the Europe's Famous Hostels network, a selection of the best hostels in Europe for Genuine Backpackers. Find out more about Famous Hostels and our network of over 40 hostels here.
We are also a part of the St Christopher's Inn network of quality hostels to visit in Europe. Find out about the other hostels here.