Right in the center of town, Tivoli Gardens provides a most magical Christmas experience with the festive Winter Wonderland opening in November and running until the New Year. With illuminations, theme park rides, a Christmas Market and fireworks, you will love the events taking place here this Christmas!

This is the place to enjoy a cosy atmosphere (even when it's snowing - there are indoor restaurants and bars and you can also warm up at one of the many fire pits around the park). With traditional Christmas gifts on sale, thousands of Christmas lights and plenty of warm mulled wine and spiced cider, this is the place to experience the magic of a Danish Christmas!!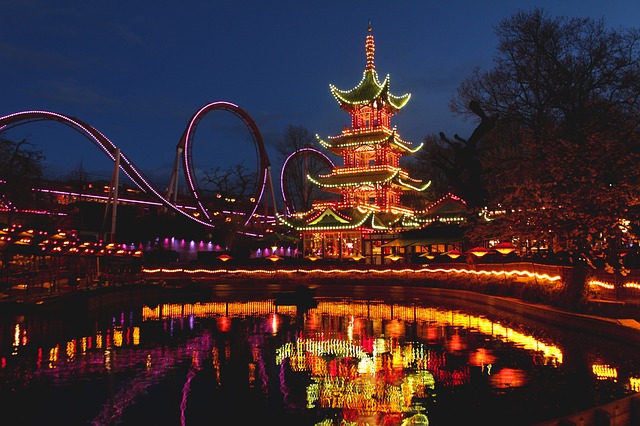 This is unmissable if you're a fan of all-things Christmassy! Tivoli is famous throughout Copenhagen as traditional historical amusement park right in the centre, and for Christmas it is filled with festive cheer as it's decorated with winter scenes and (fake) snow, with a traditional market full of gifts. Open from now until New Year's Eve when there is a big firework show and party, Tivoli is packed full of market stalls, fun fair rides and Christmas trees! Just follow the smell of cracking pork, roasting nuts and hot mulled wine; and you'll find stalls selling delicious traditional Danish food and drinks.
For Christmas and New Year there is also a huge firework display - one not to miss if you're in town!

Danish Traditional Festive Food and Drinks

It's definitely hot chocolate weather in Copenhagen right now, or a great time to enjoy warm spiced wine (gløgg). Tivoli has a selection of restaurants to sit for a meal which range from budget to fine dining, or there are market stalls where you can grab food to go, including hot roast pork sandwiches (our favourite)! There are also plenty of stalls for those with a sweet tooth including pastries, pancakes, Christmas biscuits and candyfloss. The warm spiced apple cider is a great way to keep the cold weather out!!




The Tivoli Experience

Enjoy the trees full of lights and stars, the reflection of thousands of lights on the lake, or scare yourself on one of the amusement rides (some are great for kids, some are definitely not for the faint hearted!!!). Tivoli is a great place to enjoy festive fun for all ages, and along with food, drinks and gifts, there are also rides such as the rollercoaster and a Santa's grotto for kids. Grab some toffee apples or traditional marzipan and almond sweets and have a look at the Christmas trees and magical decorations around the park.




Traditional Market Gift Stalls

There are lots of Christmas markets around Copenhagen during the festive season, but Tivoli is definitely the most impressive. There are all kinds of hand-made gifts, traditional toys, wooden carved gifts, warm clothes and knitted items.

If you're looking for cosy then check out the blankets and sheep skins, there are plenty of warm items to inspire you! There are also smaller gifts such as scarves and gloves, along with Copenhagen souvenirs. It's also just a great place to look if you're not into shopping!





We hope you enjoyed our article on visiting Tivoli Gardens in Copenhagen this Christmas and look forward to seeing you here!

Book your Stay with Copenhagen Downtown Hostel

For a wonderful festive experience in Copenhagen then don't miss out on staying with us at Copenhagen Downtown Hostel. We're award winning and have shared and private rooms to suit your needs. Our bar has parties and events including live music and DJS, along with great Happy Hour offers and communal dinners to introduce you to our international crowd. Happy Christmas!!