Christmas and New Year's Eve Parties at Copenhagen Downtown Hostel

We know how to throw a partyyyy! If you've stayed with us before or visited our international bar you will already know this fact, but as a party hostel, we have gone ALL OUT for our Christmas and New Year's Eve 2022 events. Put your best dancing shoes on and bring your disco fever, we are going all night long....


Put 24th and 25th December in your diaries as it will be party time with us for our Christmas Special!!!



Where's the Party At??
Find us in the centre of town within easy reach of the central station and main square, Copenhagen Downtown is the best located hostel around! We have an international bar on our ground floor with happy hour, games, events and live music, and a live music venue downstairs for the late night DJ crowd at Copenhagen Downunder.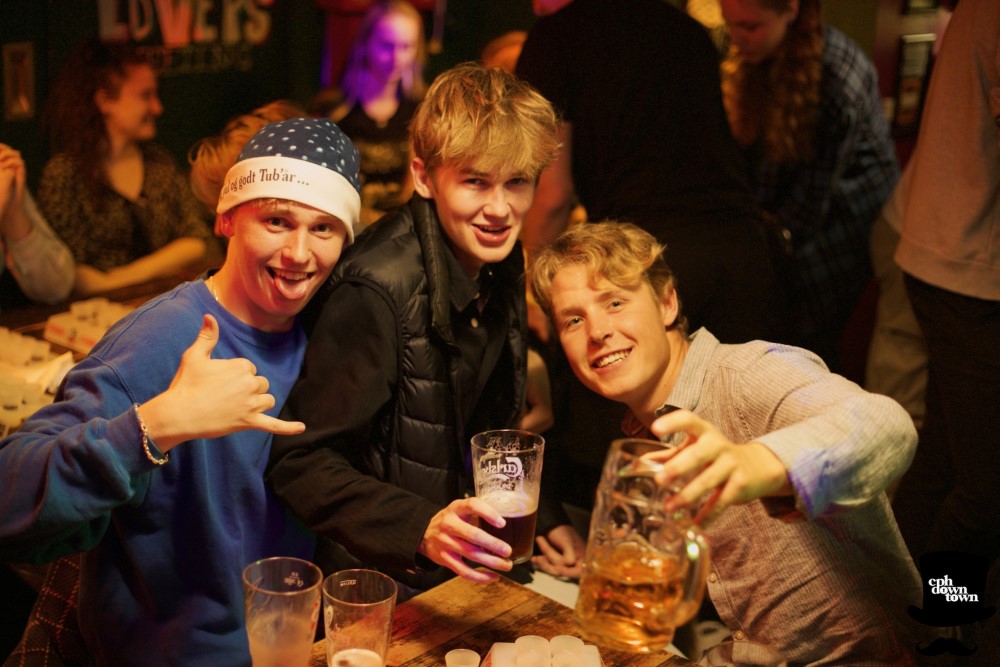 Check out the menu our awesome bartenders have created just for you, and sample some of the delicious Christmas Cocktails we have come up with to celebrate the festive season. Sundays we have a more chilled vibe (but the crowd sometimes gets wild!) for our Games Night. Check our Facebook page here for our full events schedule and how to RSVP to events.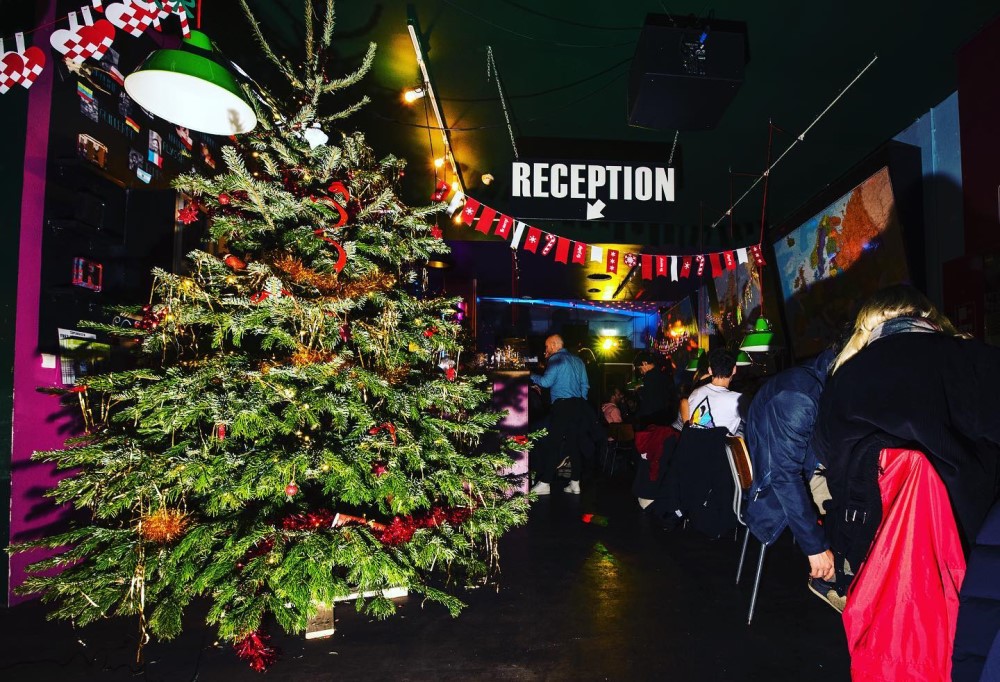 New Year's Eve Party 5pm-5am
Copenhagen Downtown is the place to be so get yourself ready for the biggest party of the year!! Dress to impress for our infamous New Year's Eve Party!! Along with live music, DJs, sequins and tinsel, we will be welcoming in 2023 with plenty of happy hour drinks, champagne and fabulous drink offers at our favourite party of the year. This is always an epic night, and we will be kissing goodbye to 2022 with some sharp tunes and even sharper shots.
Join us for an epic party to say goodbye to 2022!
There will be live music, DJ, Buffet Food, cake, great drink and cocktail offers and of course fireworks at midnight!

5pm/6pm : Welcome with champagne
7pm : Buffet Dinner
8pm : New years special edition Happy Hour
From 8pm: Live music
Midnight/1am : DJ and dancefloor
Midnight : Fireworks and cake
5am : Closing of party
Book your table today
Special Cocktails from 65 DKK, a dinnner buffet so you can eat plenty of delicious food for 100 DKK, or, you can book a table for 250 DKK per person and enjoy a set table decorated for you, with welcome drink, snacks, buffet, 1 cocktail per person and cake served at midnight. For a table you need a minimum of 4 people!
Prepare for a full 12 hours of celebrating as we go from 5pm until 5am! Expect banging music, happy hour drink specials, themed cocktails created especially for the party, and more surprises on the night. Enjoy an international crowd and backpacker vibe, along with local party lovers at our famous event club Copenhagen Downunder. Don't forget to come early as we are expecting a big crowd on the night. We will make it a night to remember as we dance our way into the New Year!! Dress your best!


Weekly Events
Monday is one of our backpacker favourite games, it's Beer Pong night! This bar and backpacker classic involves little more than throwing ping pong balls at each other's triangle of beer cups across the beer pong table and making the other team drink shots for each beer ponged! There is always a lot of fast paced beer action with this game, expect a lot of shots and chasing that ball bouncing around. Starts at 7.30pm.
Live Music is the name of the game every Tuesday and Thursday when our beloved musician Morten takes to the stage to spoil us all with his talented guitar and song repertoire! A genius juke box of a man, expect plenty of hits from the past decade and all the sing-a-long favourites. He takes requests Live Music starts at 8pm - go wild for Morten!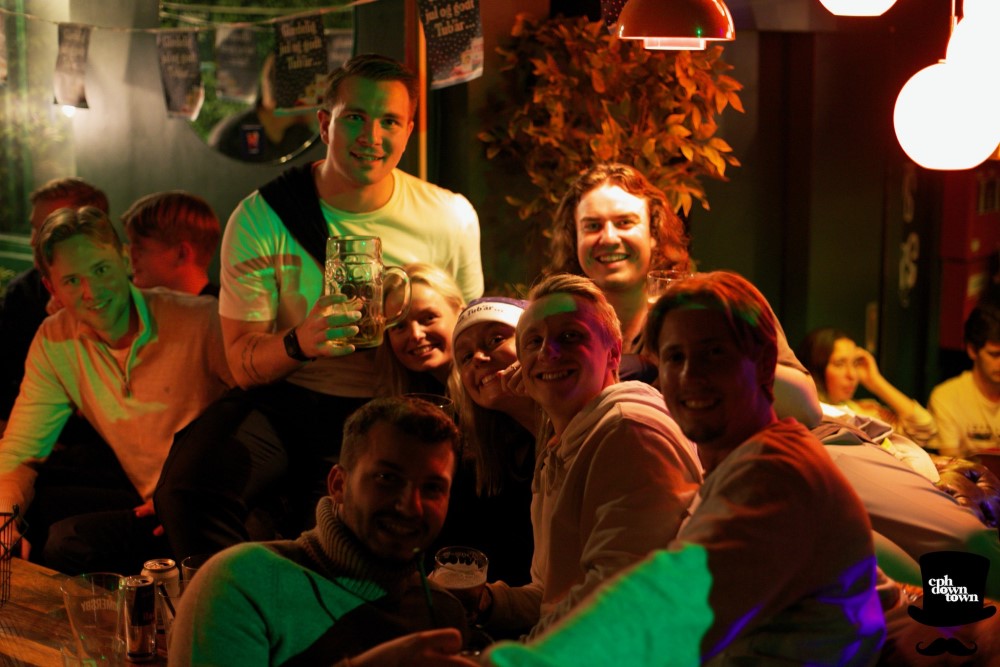 Wednesdays we like to make friends with other backpackers and find out about people from all over the world. Our solo traveller's night is the opportunity to meet fellow travellers from around the globe and have a drink, a chat, hare some food, make new friends! From 7.30pm to 10pm you can show up and join in, and don't forget it's happy hour too if you're early!

Friday and Saturday are our cocktail night. You can get a 30% discount if you buy two of the same cocktails, including our amazing "Vodka Nightfall." Get 2 cocktails for only 100 KR!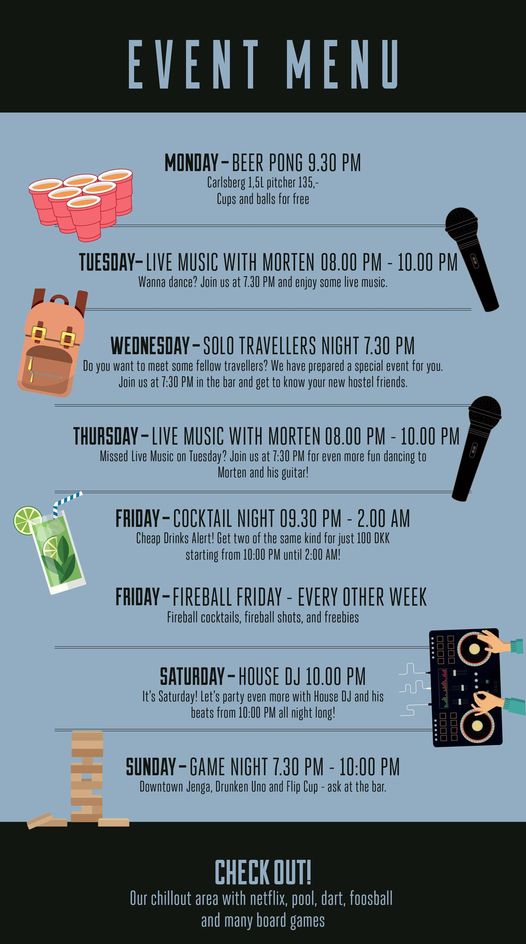 Book your Bed at Copenhagen Downtown Hostel
For the most festive and fun place to stay this Christmas, book your bed with us at Copenhagen Downtown Hostel. Be part of the fun with our shared rooms, or grab a family or private room if that's your thing. We are centrally located, and have the best international bar in Copenhagen! Our award-winning hostel will make you feel welcome this festive season, and we have the best parties in town taking place right here in our Downtown Bar and our Downunder venue. Check us out and book your bed direct at Copenhagendowntown.com for the best rates and benefits.
We are the chosen hostel in Copenhagen to be a part of the Europe's Famous Hostels network, a selection of the best hostels in Europe for Genuine Backpackers. Find out more about Famous Hostels and our network of over 40 hostels here. We are also a part of the St Christopher's Inn network of quality hostels to visit in Europe. Find out about the other hostels here.