A Traditional Danish Christmas in Copenhagen

''Tis the season to be jolly and enjoy a traditional Danish Christmas this year in Copenhagen. We are excited to celebrate this December as we wait patiently for Santa and the New Year! Copenhagen comes alive at Christmas time with magical Christmas Markets, decorations and illuminations in the street, festive food and drinks, and plenty of parties taking place around town.
Expect a warm welcome from locals as Christmas markets pop up in the heart of the city and there are plenty of delicious festive treats, ice skating, cosy bars to enjoy, and we embrace all things "hygge."
It really is a wonderful time to visit the city, with all kinds of celebrations taking place, from the Winter Wonderland at Tivoli Amusement Park to the Christmas celebrations at the Zoo! It may be frosty cold, or snow if you're lucky, but wrap up warm and enjoy the most magical time of the year!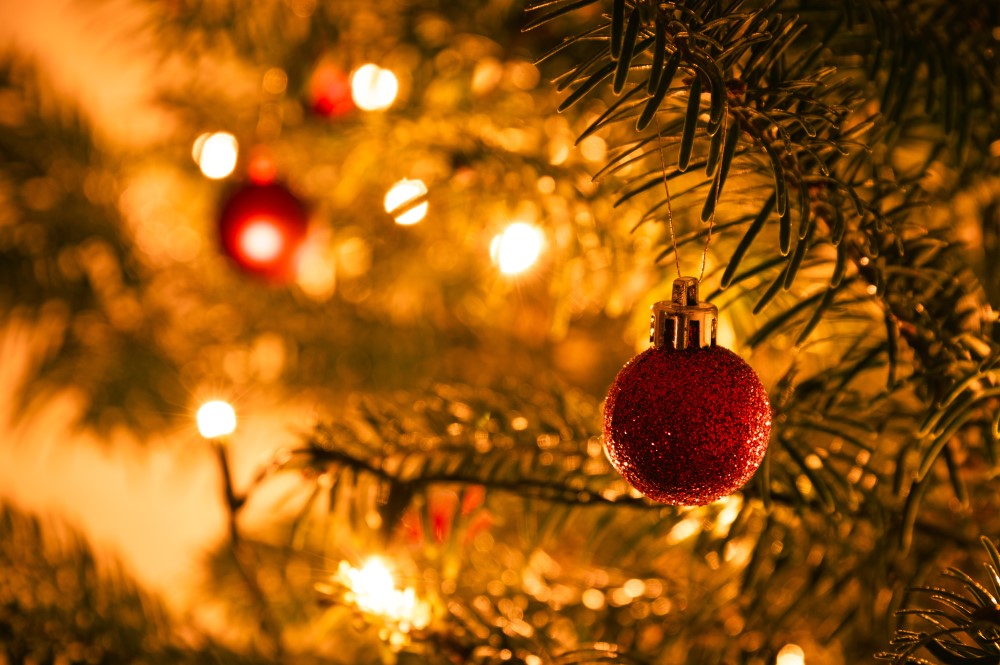 Drinking warm glogg wine, eating gingerbread, and of course roasted pork. We love Christmas traditions, especially shopping for gifts!!

There are a selection of Christmas markets taking place around the city, from the Christiania handmade gift market to the fairground rides in the center of the city. Of course Tivoli also has a Christmas market inside the amusement park, but you have to pay to enter to shop at this one. Another tradition is the decorations which you will see all over town in homes or bars and restaurants - expect plenty of candles and wreaths made of leaves.
Enjoy your Gløgg Wine
This is the time of year to take your red wine hot and spicy, with the Danish version of warm mulled spiced wine - gløgg. Made with warm red wine, nuts, sultanas and spices, it's a mulled wine that gives you festive cheer on the coldest of days! We also have hot apple cider which is also spiced and delicious- a reason to come in itself! You can even throw a dash of brandy or rum in for good measure, or have it with grape juice or apple juice to take out the alcohol.
Traditional Danish Festive Food
It's not just about delicious roast pork dinners - but that's a big part of it! The traditional Danish Christmas festive meal is on 24th December and is roast pork, boiled potatoes and red cabbage (or sometimes duck or goose). It's also a popular time for baking and there are lots of ginger biscuits and other treats around Christmas, as well as a hot rice pudding with almonds hidden in (for lucky presents) or cold with a hot cherry sauce. It's delicious!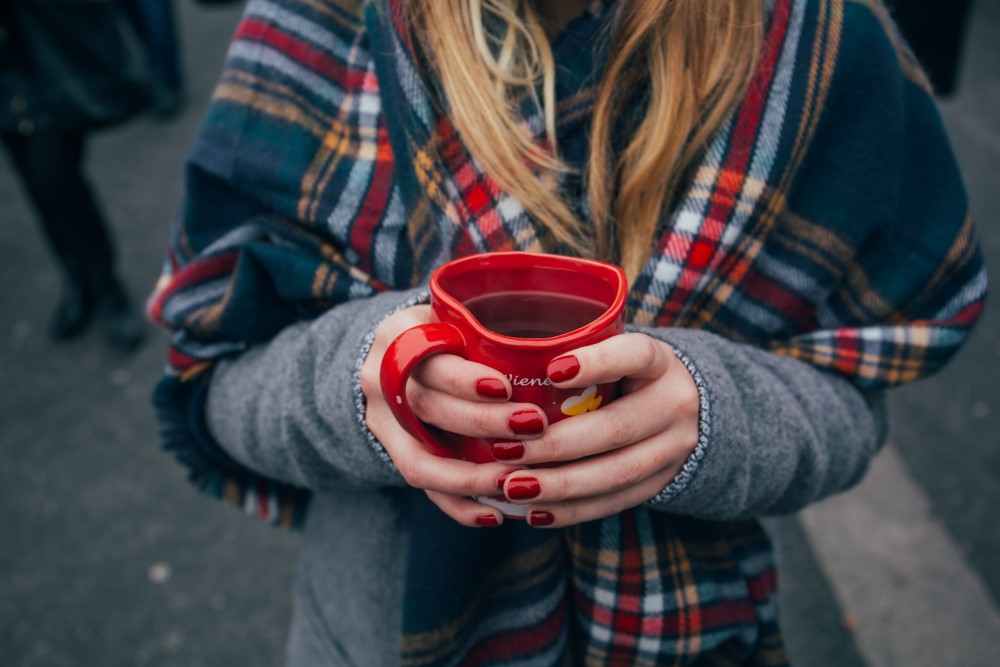 All of Scandinavia does a very good Christmas vibe- especially if we get a little snow first. The decorations and atmosphere and singing in the streets makes it very special. Christmas in Copenhagen really is something a little magical (and not just for the kids who believe in Christmas elves visiting them with presents!)
The alternative market to check out is in Copehagen Zoo! The stalls are traditional themes but the setting is totally unique. You can visit the penguins while enjoying the festive lights, over 400,000 of them. Out of town there are Christmas Markets at Bakken, the world's oldest theme park located in the Deer Park.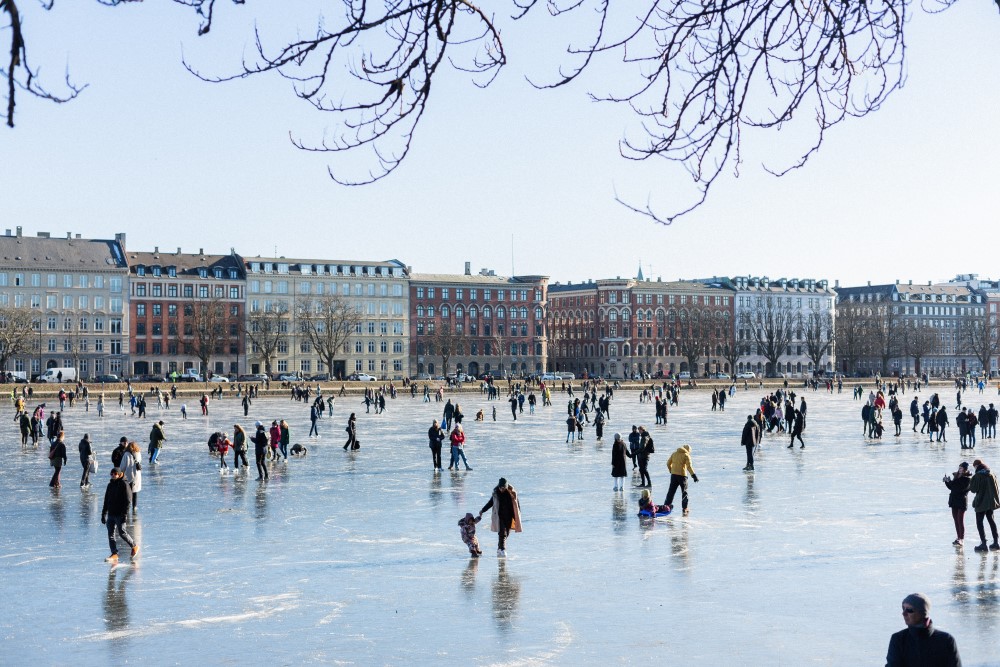 Ice Skating fun
You don't have to be good at ice skating to enjoy swishing around on the ice, it's for everyone! Copenhagen has the annual winter ice skate rink at Frederiksberg again this year - and it's free. Here you can bring your own skates or hire blades for 50 DKK for a full day, and the open-air rink is illuminated with Christmas lights. Do your best blades of glory impression here until the end of February.

Copenhagen Street Food market is closed on PapirØen, or Paper Island, until the spring, but you can satiate your appetite for donuts and gløgg at Broens Skojtebane. From 4th November until 26 February there is an ice-skating rink open along with stalls selling hot drinks and hosting fun activities including an ice disco. Food here includes crepes, pasta, burgers and mochi.
Festive Foods this Christmas
If you're looking to feed your festive appetite, then try some traditional Danish treats and sweets. One place to try plenty of variety of foods, both local and international, is Torvehallerne food market. This covered market by Nørreport station has indoor and outdoor stalls and restaurants so you can try plenty of treats from cheeses and breads to sushi and ice cream. Tasty!

If you have a sweet tooth, then try a visit to the famous Sømod's Bolcher Candy Factory. For over 125 years this sweet shop heaven has been serving up mouth-watering sweets, including to the royal family in Denmark.
Visit the factory in the trendy Nørreport neighbourhood near the Station, where you try their traditionally made sweets. Perfect for those with a taste for the good stuff!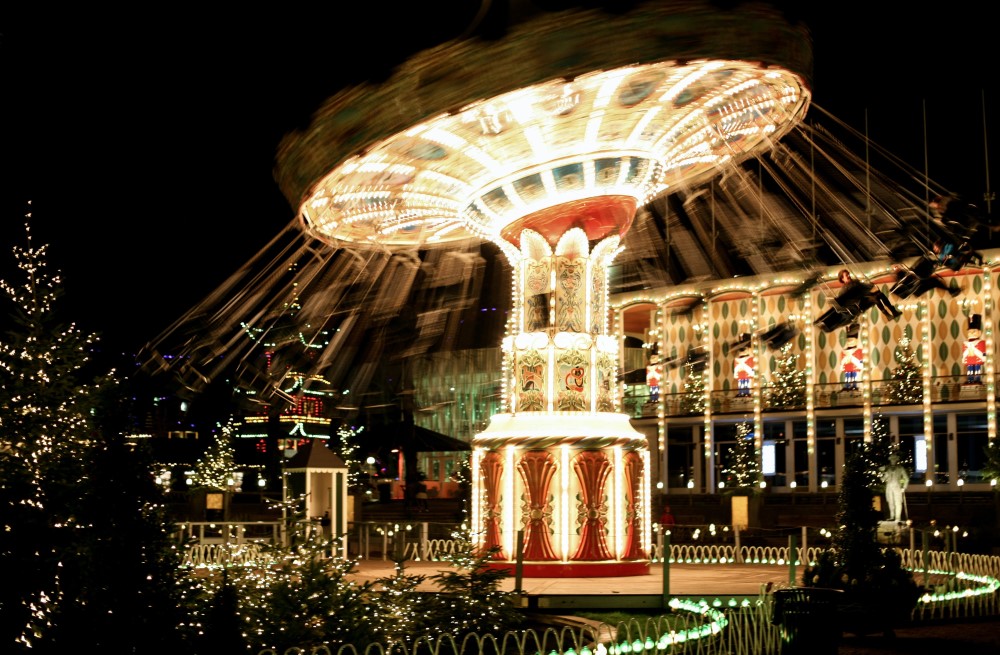 Christmas and the Fairground at Tivoli
Not only is Tivoli the best place for traditional Christmas market stalls, there are also thrill-seeking rides that can whizz you around with views of the city. Get your dose of a Danish Christmas with thousands of glittering lights and decorations, more than 15000 Christmas trees, and see the park transformed until 2nd January. Check out the stalls where you can buy traditional gifts and feast on hot chocolate and mouth-watering snacks. Don't forget to sample the gløgg, that's the delicious sweet warm spiced wine.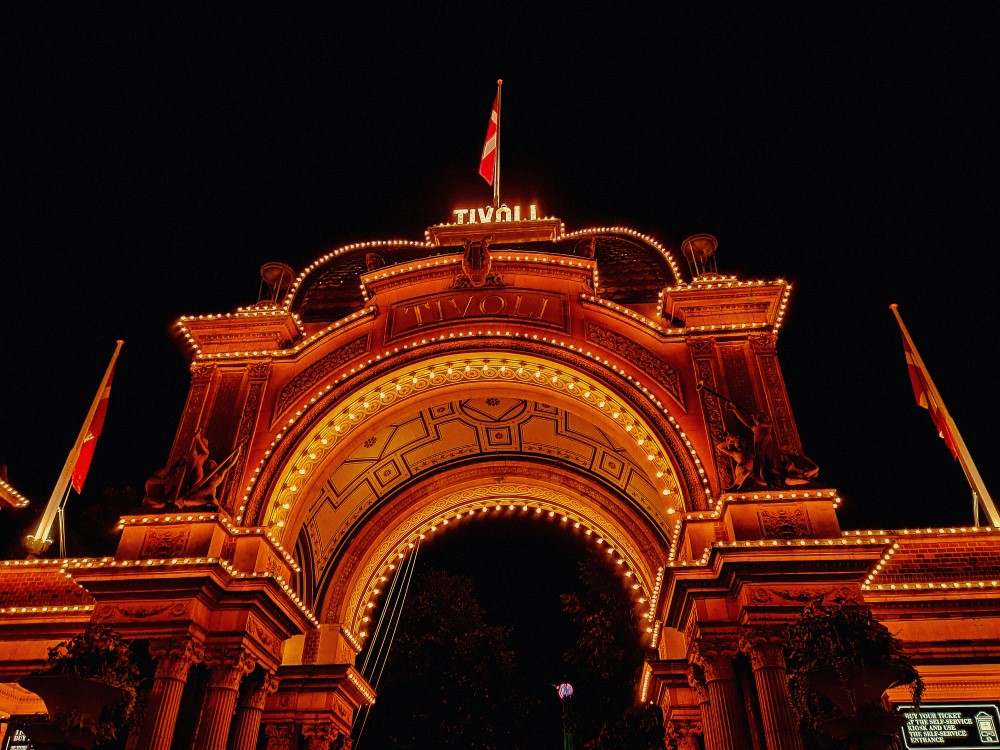 For adrenaline junkies you can try the 63m high Golden Tower ride that drops you straight down, or "The Demon", or take it easy on the rollercoaster or Elf Ride. There's a mini Tiovli where you can enjoy the market stalls, and a whole host of restaurants to warm up inside.
For firework lovers Tivoli also hosts a festival of fireworks on the 25th, 26th at 20.45 or get ready for the New year in style with fireworks on the 31st of December at 23.00. Don't forget it is closed on 24th for Christmas. You can't visit this fun-loving city without at visit to the world's oldest amusement park Tivoli!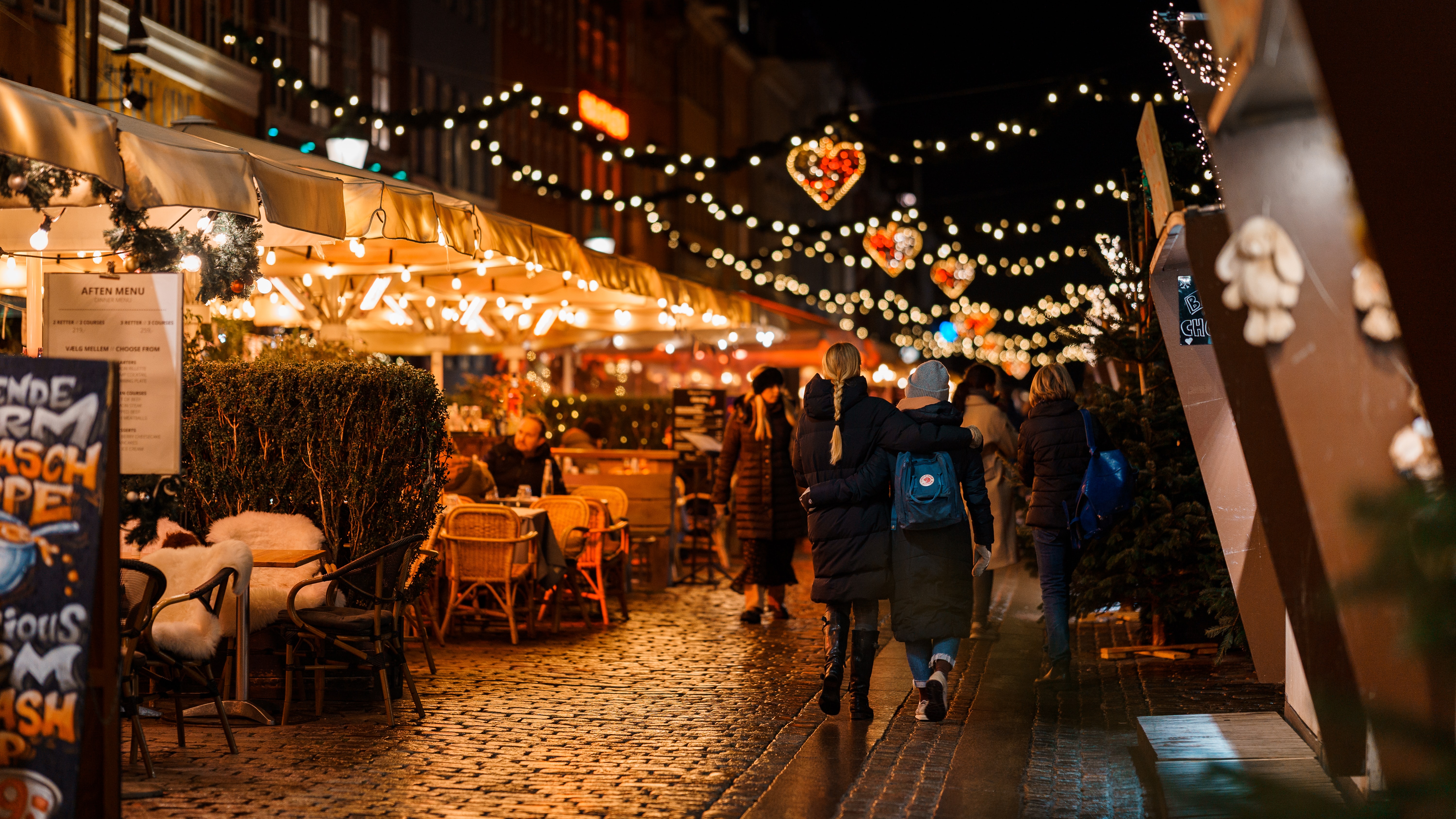 Christmas Markets this December
There are several Christmas Markets around the city including the best one at Tivoli (see below) where you can wander around with a hot festive drink and enjoy traditional sweets and see Danish handicrafts and other Christmas gifts. The central market has all the usual stalls and things to buy along with some great little funfair rides. Nyhavn also has a market where you can enjoy the scenic view. There is also a market in Christiania where you can find plenty of gifts also and hand-made treats from local artisans. The market in the centre of Copenhagen at Kongens Nytorv also has Santa visiting if you time it right!
There are markets to be found around the city, including a Danish foods market in the Meatpacking District. For a traditional market head to Højbro Plads in the centre, or find others in Nyhavn harbor, in the castle at Kronborg! and at Kongens Nytorv in the centre of town.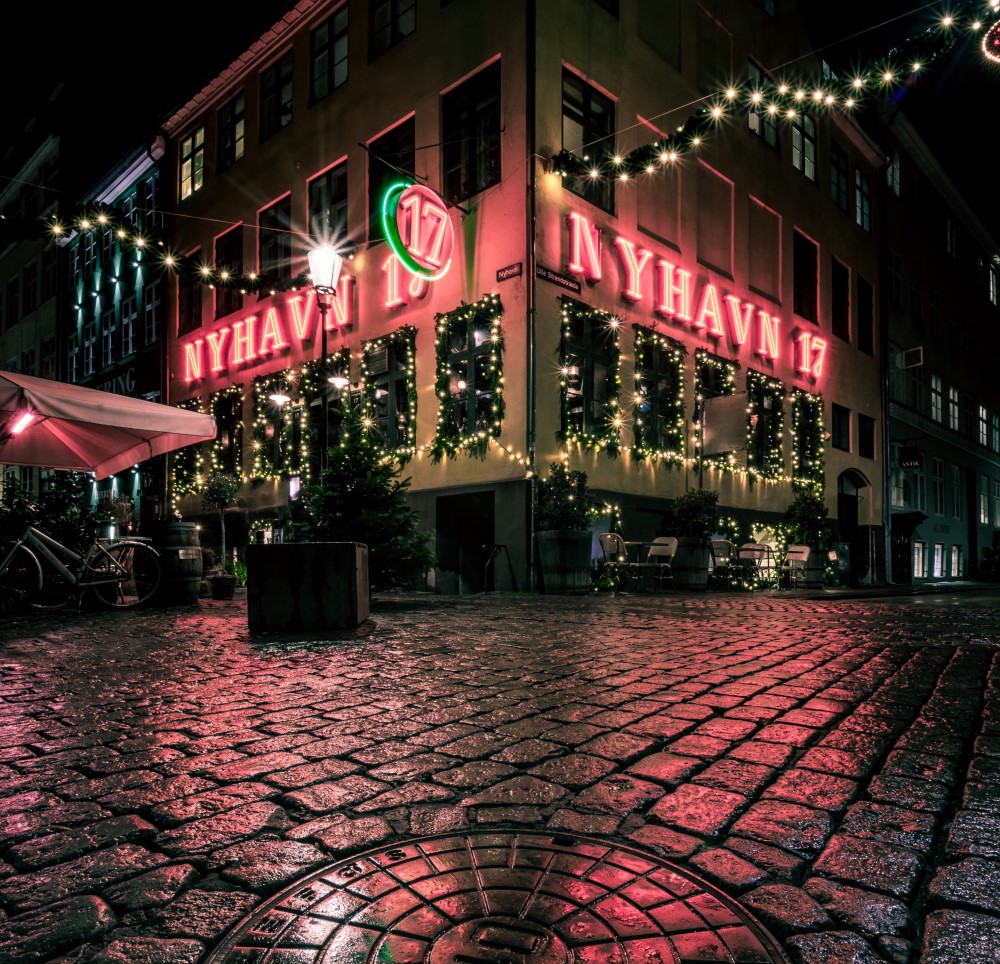 The Julemarked (yule market) at Højbro Plads is on until 21st December and has plenty of sparkling lights, Santa's sleigh and reindeer to visit - it's styled like a traditional market from the past and free to visit.
Hans Christian Andersen Market at Nytorv - The Danish author and famous storyteller has a market named after him which has themed stalls from each of his fairy tales. Open until 21st December.
And if we are lucky.... we will get snow!!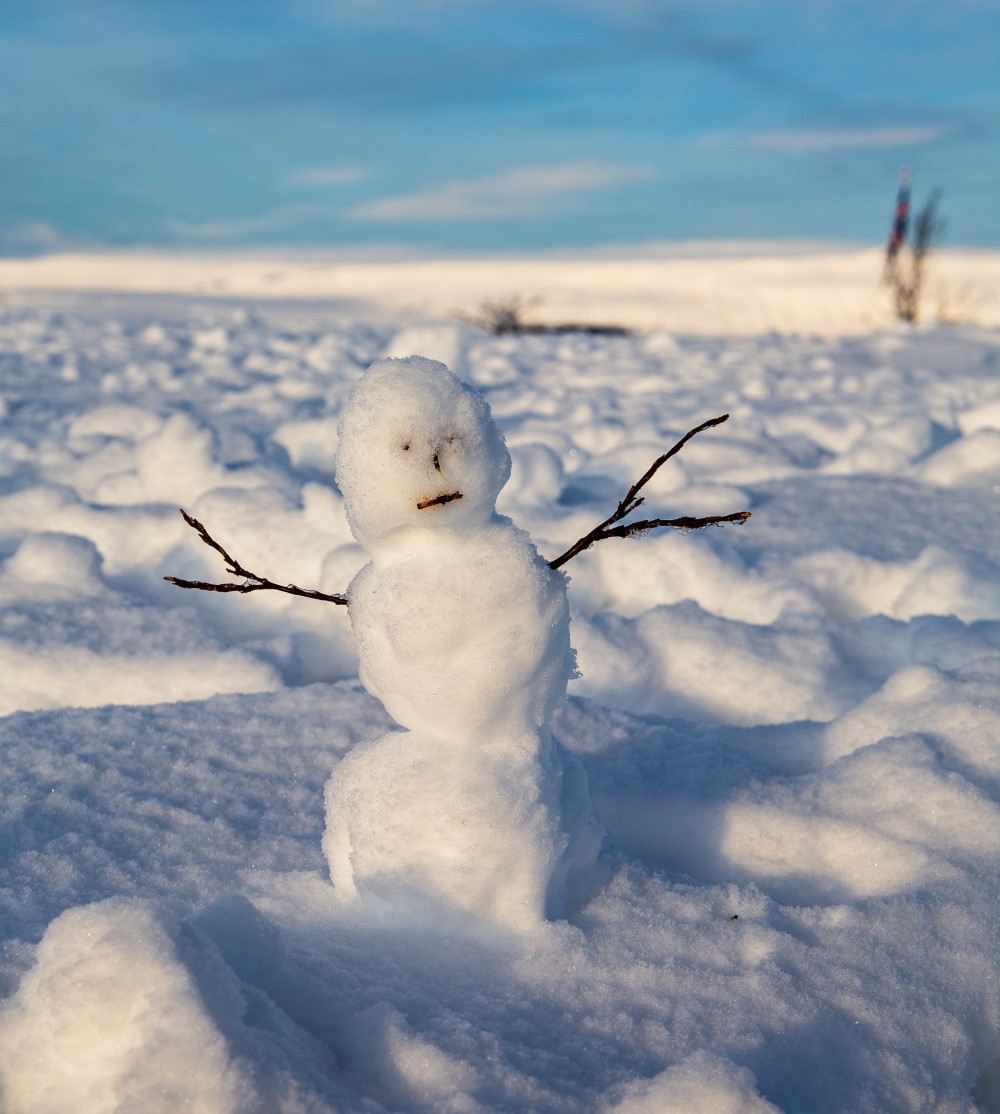 Sleep With Someone Famous this Christmas
All the Christmas fun starts with us!! Book your bed at Copenhagen Downtown Hostel this festive season and join us for all our regular fun bar events plus our awesome Christmas festive frolics! If you're looking to meet new friends then our international bar is the best place to start, and we have the best happy hour in town… We can't wait to see you here!
Book directly with us for the best prices and added benefits and check out our friends at St Christopher's Inns Hostels and Famous Hostels for the best hostels around Europe for Genuine Backpackers.