A Day Trip to Kronborg Castle in Helsingor
Kronborg Slot, or "Crown Castle", is Denmark's most famous castle, and is easily reached as a Day Trip from Copenhagen to Helsingør. Imagined by Shakespeare in his play "Hamlet" as Elsinore Castle, this 15th century castle lies just north of Copenhagen along the coast. Propped on the tip of Zealand and with views over the Øresund to Sweden, Kronborg boasts over 600 years of history within its walls. You can visit by train from Copenhagen central station in just 40 minutes and be inspired by the halls of Danish Kings and Queens and the lovely town itself. Worth a day trip for all history lovers!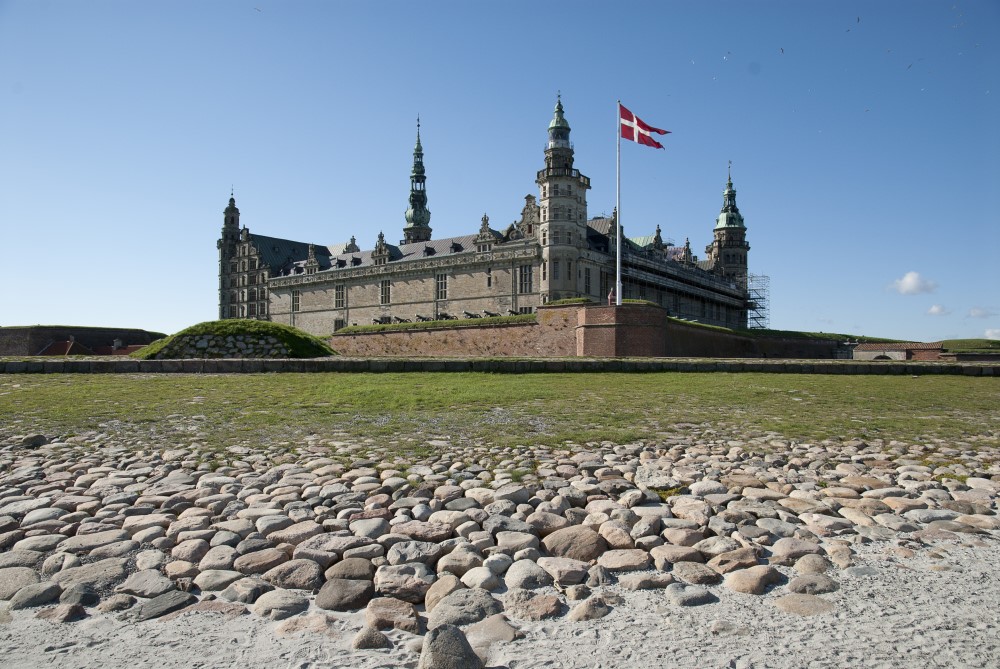 Photograph courtesy of Thomas Rahbek, Kronborg Press Office
Follow the coast up from Copenhagen and you will see the beaches overlooking Sweden and eventually reach the pretty historic town of Helsingør. The main attraction here is the impressive architecture of Kronborg castle and its beautiful seaside setting; filled with historical artefacts and regal artworks, and of course the haunted prison dungeons.
Designated a World Heritage Site in 2000, the castle is still alive with history as the halls are filled with rich tapestries and paintings, military memorabilia and armour. You can feel the former military status here on this strategic tip of Denmark and still see the antique cannons that form a ring around the main building in its majestic grounds.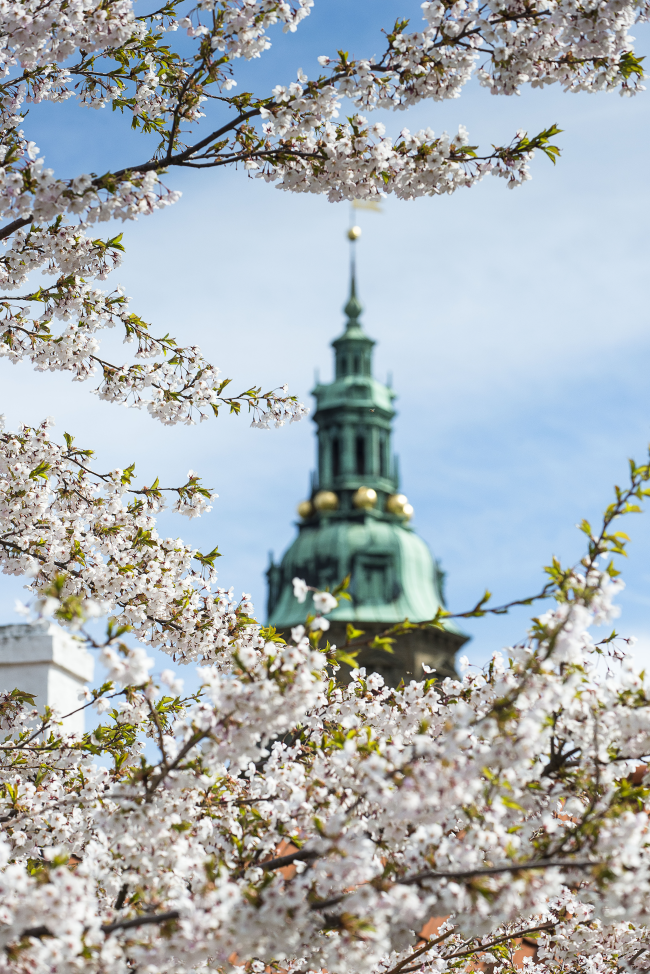 Photograph courtesy of Thomas Rahbek, Kronborg Press Office
The inspiration for Elsinore Castle in Shakespeare's famous play "Hamlet", the castle is still thought to be haunted. But it is the 17th century paintings in the Ballroom and the tapestries and portraits that adorn the Little Hall that look down on visitors now. It's little wonder Shakespear found the palace grounds so inspiring, with Medieval fortifications still intact and Renaissance architecture on the main buildings.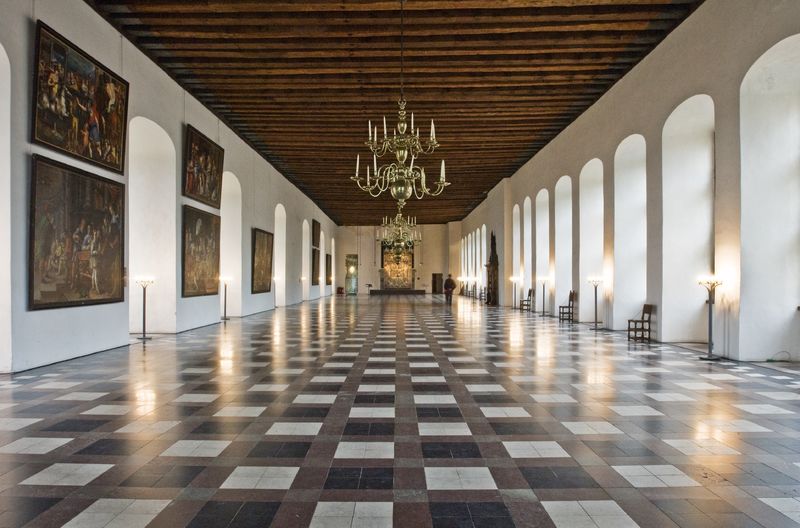 Photograph courtesy of Finn Chrostofferson, Kronborg Press Office
Kronborg Slot History
Built as a strategic look out over the sea in the 1420s, the castle, originally known as Krogen, is perched on the northeastern tip of Denmark's island of Zealand. The Øresund is only 4km wide here between Denmark and Sweden (although this is Swedish Scania, and was actually a part of Denmark when the castle was built) so it is an important entrance to the Baltic Sea. Built by King Eric VII in the 1420s to control the maritime invaders, along with the Karnan Castle opposite on the Swedish side, this strategic position meant it was a military stronghold for Denmark for almost 500 years. It was even used by the Danish Army runtil the 1920s, and has spent the last 100 years as a Danish public monument.

Kronborg was also a palace home for The Danish Royal Family, with it being an official residence up until 1785. The castle has changed significantly since the 1400s, mostly due to a fire destroying swathes of the castle in 1629, but it was then rebuilt by King Christian IV shortly after. On the orders of King Frederik II, famous architectus reimagined the castle in the late 16th century, with the Medieval fortress altered to a more fashionable Renaissance palace. As well as a face lift to how the castle looks today, it also received a name change, from Krogen to Kronborg Castle.


Photograph courtesy of Nikki Jeffries, Kronborg Press Office
A Place of Mythology
Kronborg Slot is best known in modern times as the inspiration for William Shakespeare's "Elsinor" castle in "Hamlet", a play which has been performed many times in the castle grounds, but it is also famous in Athurian Legend. Kronborg is the place with King Ogier the Dane (the sleeping king) is said to have made up his bed in mythology. There is a statue in the grounds of Ogier the Dane, with a long beard to the ground representing the years he spent here where he is believed to have slept until he was needed to save Denmark. This is after visiting Avalon alongside the legendary Morgan le Fay. There are more historic myths and ghosts around the castle that you can find on a visit here.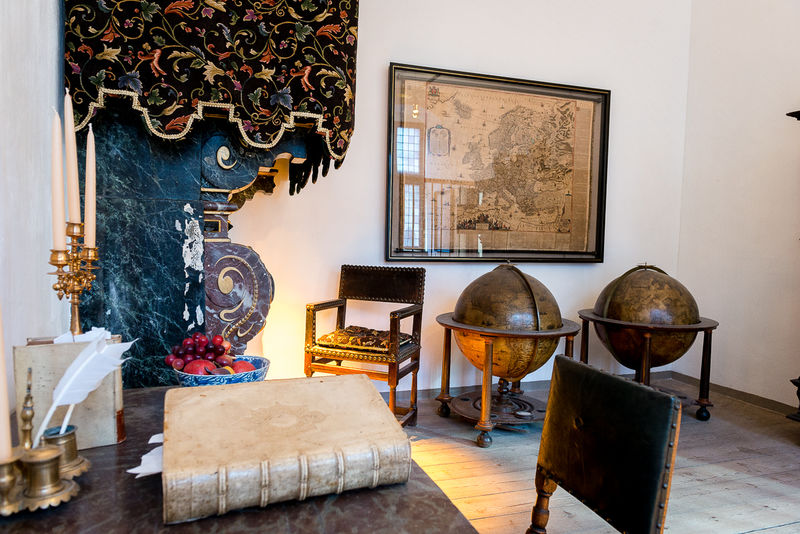 Photograph courtesy of Thomas Rahbek, Kronborg Press Office
Getting There and Away
By train you can reach Kronborg Castle easily from Copenhagen central station, and it takes around 40 minutes to travel to the stop Helsingør. From here you can walk to the castle. If you're driving then it is a scenic route up the coast. There are also events that take place throughout the year including music festivals, so check out what's on at kronborg.dk
Open daily from 10am to 5pm, tickets are 145 DKK for adults, 135 DKK for students. you can buy tickets here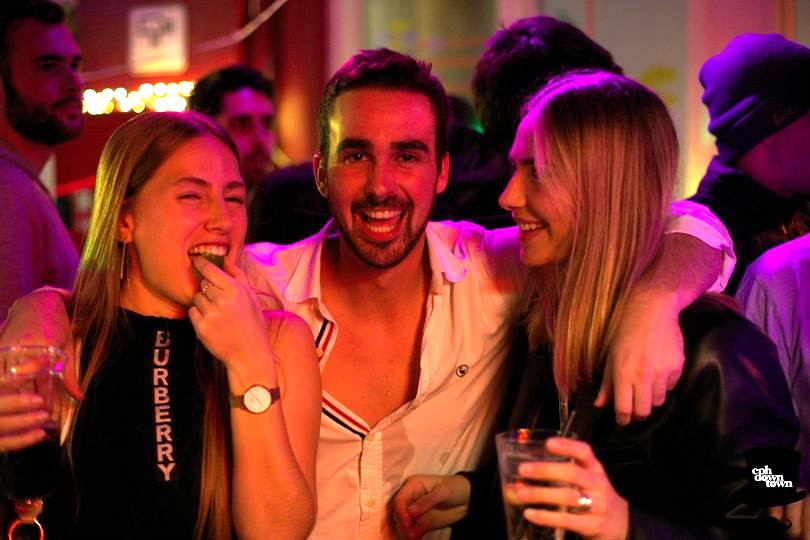 Stay with Us in Copenhagen Downtown
We are full of tips on what to see and do in Copenhagen, including day trips out of the city and the best places to go in our downtown neighbourhood. We are only a 5 minutes walk from the central station, so everywhere is on your doorstep. Just check out our blog or ask our friendly staff!
We have an international atmosphere in our centrally located downtown hostel where you can meet backpackers and travellers from all over the world, and some closer to home! Our Happy Hour is so good we attract a local crowd, so you are bound to make new friends. After a day touring the city sights or exploring further afield you can relax in our international bar, enjoy our great happy hour food and drink offers, and catch some entertainment in our lively bar. Book your bed directly with us for the best deals on added extras!
We are also part of the Europe's Famous Hostels network, being the hostel of choice for the Genuine Backpacker, as part of a network of over 30 hostels across Europe.
Find out more about Famous Hostels here www.famoushostels.com
Photos courtesy of Kongelige Slotte Press photos, and
Sandra Grünewald on Unsplash